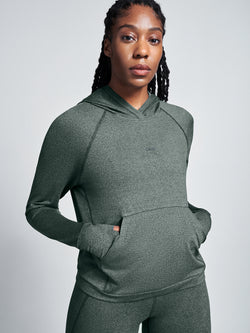 THE SUNDAY SUPREME Hoodie Forest Marl
FREE RETURNS ON ALL ORDERS
Not quite sure which ones to choose?
We offer free returns + exchanges on all orders.
Try our leggings for 30 Days
Like each piece in the SUNDAY range, our SUNDAY SUPREME hoodie is made for days spent in the studio or off-duty, crafted using our velvety smooth (and fully recycled) Plush Supreme fabric - the softest of our signature materials.
Technical enough to dominate the gym but designed to feel lusciously soft against your skin, this long-sleeved layer is trimmed with thumbholes at the cuffs to keep the sleeves in place, while the hood is left free from drawstrings that can get in the way during your workout. As for the clean-edged kangaroo pouch, it's the perfect place to store your locker key or coffee loyalty card.
Length: Above Hip
Fabric: Plush Supreme
Venetia wears size S is 5' 8" - Underbust 33", Waist 28.5", Hips 39.5"
Care: Machine Wash Cold at 30°, with similar sports gear. Always hang out to dry. No fabric softener.
Fabric: 82% Recycled Polyester, 18% Elastane
Made in Lithuania
Not sure on size? We're here to help. Whilst you'll find sizing guidelines below, if you're still unsure, you're welcome to get in contact our Experts and we'll give you our recommendations!
| Jersey Tops | XS | S | M | L |
| --- | --- | --- | --- | --- |
| UK/AU | 6 - 8 | 10 - 12 | 12 - 14 | 14 - 16 |
| US | 2 - 4 | 6 - 8 | 8 - 10 | 10 - 12 |
| EU | 34 - 36 | 36 - 38 | 38 - 40 | 40 - 42 |
| Jersey Tops | XS - S | S - M | M - L | L - XL |
| --- | --- | --- | --- | --- |
| UK/AU | 6 - 8 | 8 - 10 | 12 - 14 | 14 - 16 |
| US | 2 - 4 | 4 - 6 | 8 - 10 | 10 - 12 |
| EU | 34 - 36 | 36 - 38 | 40 - 42 | 42 - 44 |
| Jersey Tops | XS - S | S - M | M - L | L - XL |
| --- | --- | --- | --- | --- |
| UK/AU | 6 - 8 | 8 - 10 | 12 - 14 | 16 |
| US | 2 - 4 | 4 - 6 | 8 - 10 | 12 |
| EU | 34 - 36 | 36 - 38 | 40 - 42 | 44 |
| Jersey Tops | XS - S | S - M | M - L | L - XL |
| --- | --- | --- | --- | --- |
| UK/AU | 6 - 8 | 8 - 10 | 12 - 14 | 14 - 16 |
| US | 2 - 4 | 4 - 6 | 8 - 10 | 10 - 12 |
| EU | 34 - 36 | 36 - 38 | 40 - 42 | 42 - 44 |
| Jersey Tops | XS - S | S - M | M - L | L - XL |
| --- | --- | --- | --- | --- |
| UK/AU | 6 - 8 | 8 - 10 | 12 - 14 | 16 |
| US | 2 - 4 | 4 - 6 | 8 - 10 | 12 |
| EU | 34 - 36 | 36 - 38 | 40 - 42 | 44 |
| Jersey Tops | XS - S | S - M | M - L | L - XL |
| --- | --- | --- | --- | --- |
| UK/AU | 6 - 8 | 8 - 10 | 12 - 14 | 14 - 16 |
| US | 2 - 4 | 4 - 6 | 8 - 10 | 10 - 12 |
| EU | 34 - 36 | 36 - 38 | 40 - 42 | 42 - 44 |
| Jersey Tops | XS - S | S - M | M - L | L - XL |
| --- | --- | --- | --- | --- |
| UK/AU | 6 - 8 | 8 - 10 | 12 - 14 | 16 |
| US | 2 - 4 | 4 - 6 | 8 - 10 | 12 |
| EU | 34 - 36 | 36 - 38 | 40 - 42 | 44 |
| Jersey Tops | XS - S | S - M | M - L | L - XL |
| --- | --- | --- | --- | --- |
| UK/AU | 6 - 8 | 8 - 10 | 12 - 14 | 14 - 16 |
| US | 2 - 4 | 4 - 6 | 8 - 10 | 10 - 12 |
| EU | 34 - 36 | 36 - 38 | 40 - 42 | 42 - 44 |
| Jersey Tops | XS - S | S - M | M - L | L - XL |
| --- | --- | --- | --- | --- |
| UK/AU | 6 - 8 | 8 - 10 | 12 - 14 | 16 |
| US | 2 - 4 | 4 - 6 | 8 - 10 | 12 |
| EU | 34 - 36 | 36 - 38 | 40 - 42 | 44 |
| Jersey Tops | XS - S | S - M | M - L | L - XL |
| --- | --- | --- | --- | --- |
| UK/AU | 6 - 8 | 8 - 10 | 12 - 14 | 14 - 16 |
| US | 2 - 4 | 4 - 6 | 8 - 10 | 10 - 12 |
| EU | 34 - 36 | 36 - 38 | 40 - 42 | 42 - 44 |
| Jersey Tops | XS - S | S - M | M - L | L - XL |
| --- | --- | --- | --- | --- |
| UK/AU | 6 - 8 | 8 - 10 | 12 - 14 | 16 |
| US | 2 - 4 | 4 - 6 | 8 - 10 | 12 |
| EU | 34 - 36 | 36 - 38 | 40 - 42 | 44 |
| Jersey Tops | XS - S | S - M | M - L | L - XL |
| --- | --- | --- | --- | --- |
| UK/AU | 6 - 8 | 8 - 10 | 12 - 14 | 14 - 16 |
| US | 2 - 4 | 4 - 6 | 8 - 10 | 10 - 12 |
| EU | 34 - 36 | 36 - 38 | 40 - 42 | 42 - 44 |
| Jersey Tops | XS - S | S - M | M - L | L - XL |
| --- | --- | --- | --- | --- |
| UK/AU | 6 - 8 | 8 - 10 | 12 - 14 | 16 |
| US | 2 - 4 | 4 - 6 | 8 - 10 | 12 |
| EU | 34 - 36 | 36 - 38 | 40 - 42 | 44 |
| Jersey Tops | XS - S | S - M | M - L | L - XL |
| --- | --- | --- | --- | --- |
| UK/AU | 6 - 8 | 8 - 10 | 12 - 14 | 14 - 16 |
| US | 2 - 4 | 4 - 6 | 8 - 10 | 10 - 12 |
| EU | 34 - 36 | 36 - 38 | 40 - 42 | 42 - 44 |
| Jersey Tops | XS - S | S - M | M - L | L - XL |
| --- | --- | --- | --- | --- |
| UK/AU | 6 - 8 | 8 - 10 | 12 - 14 | 16 |
| US | 2 - 4 | 4 - 6 | 8 - 10 | 12 |
| EU | 34 - 36 | 36 - 38 | 40 - 42 | 44 |
| Jersey Tops | XS - S | S - M | M - L | L - XL |
| --- | --- | --- | --- | --- |
| UK/AU | 6 - 8 | 8 - 10 | 12 - 14 | 14 - 16 |
| US | 2 - 4 | 4 - 6 | 8 - 10 | 10 - 12 |
| EU | 34 - 36 | 36 - 38 | 40 - 42 | 42 - 44 |
| Jersey Tops | XS - S | S - M | M - L | L - XL |
| --- | --- | --- | --- | --- |
| UK/AU | 6 - 8 | 8 - 10 | 12 - 14 | 16 |
| US | 2 - 4 | 4 - 6 | 8 - 10 | 12 |
| EU | 34 - 36 | 36 - 38 | 40 - 42 | 44 |
| Jersey Tops | XS - S | S - M | M - L | L - XL |
| --- | --- | --- | --- | --- |
| UK/AU | 6 - 8 | 8 - 10 | 12 - 14 | 14 - 16 |
| US | 2 - 4 | 4 - 6 | 8 - 10 | 10 - 12 |
| EU | 34 - 36 | 36 - 38 | 40 - 42 | 42 - 44 |
| Jersey Tops | XS - S | S - M | M - L | L - XL |
| --- | --- | --- | --- | --- |
| UK/AU | 6 - 8 | 8 - 10 | 12 - 14 | 16 |
| US | 2 - 4 | 4 - 6 | 8 - 10 | 12 |
| EU | 34 - 36 | 36 - 38 | 40 - 42 | 44 |
| Jersey Tops | XS - S | S - M | M - L | L - XL |
| --- | --- | --- | --- | --- |
| UK/AU | 6 - 8 | 8 - 10 | 12 - 14 | 14 - 16 |
| US | 2 - 4 | 4 - 6 | 8 - 10 | 10 - 12 |
| EU | 34 - 36 | 36 - 38 | 40 - 42 | 42 - 44 |
| Jersey Tops | XS - S | S - M | M - L | L - XL |
| --- | --- | --- | --- | --- |
| UK/AU | 6 - 8 | 8 - 10 | 12 - 14 | 16 |
| US | 2 - 4 | 4 - 6 | 8 - 10 | 12 |
| EU | 34 - 36 | 36 - 38 | 40 - 42 | 44 |
| Jersey Tops | XS - S | S - M | M - L | L - XL |
| --- | --- | --- | --- | --- |
| UK/AU | 6 - 8 | 8 - 10 | 12 - 14 | 14 - 16 |
| US | 2 - 4 | 4 - 6 | 8 - 10 | 10 - 12 |
| EU | 34 - 36 | 36 - 38 | 40 - 42 | 42 - 44 |
| Jersey Tops | XS - S | S - M | M - L | L - XL |
| --- | --- | --- | --- | --- |
| UK/AU | 6 - 8 | 8 - 10 | 12 - 14 | 16 |
| US | 2 - 4 | 4 - 6 | 8 - 10 | 12 |
| EU | 34 - 36 | 36 - 38 | 40 - 42 | 44 |
| Jersey Tops | XS - S | S - M | M - L | L - XL |
| --- | --- | --- | --- | --- |
| UK/AU | 6 - 8 | 8 - 10 | 12 - 14 | 14 - 16 |
| US | 2 - 4 | 4 - 6 | 8 - 10 | 10 - 12 |
| EU | 34 - 36 | 36 - 38 | 40 - 42 | 42 - 44 |
| Jersey Tops | XS - S | S - M | M - L | L - XL |
| --- | --- | --- | --- | --- |
| UK/AU | 6 - 8 | 8 - 10 | 12 - 14 | 16 |
| US | 2 - 4 | 4 - 6 | 8 - 10 | 12 |
| EU | 34 - 36 | 36 - 38 | 40 - 42 | 44 |
| Jersey Tops | XS - S | S - M | M - L | L - XL |
| --- | --- | --- | --- | --- |
| UK/AU | 6 - 8 | 8 - 10 | 12 - 14 | 14 - 16 |
| US | 2 - 4 | 4 - 6 | 8 - 10 | 10 - 12 |
| EU | 34 - 36 | 36 - 38 | 40 - 42 | 42 - 44 |
| Jersey Tops | XS - S | S - M | M - L | L - XL |
| --- | --- | --- | --- | --- |
| UK/AU | 6 - 8 | 8 - 10 | 12 - 14 | 16 |
| US | 2 - 4 | 4 - 6 | 8 - 10 | 12 |
| EU | 34 - 36 | 36 - 38 | 40 - 42 | 44 |
| Jersey Tops | XS - S | S - M | M - L | L - XL |
| --- | --- | --- | --- | --- |
| UK/AU | 6 - 8 | 8 - 10 | 12 - 14 | 14 - 16 |
| US | 2 - 4 | 4 - 6 | 8 - 10 | 10 - 12 |
| EU | 34 - 36 | 36 - 38 | 40 - 42 | 42 - 44 |
| Jersey Tops | XS - S | S - M | M - L | L - XL |
| --- | --- | --- | --- | --- |
| UK/AU | 6 - 8 | 8 - 10 | 12 - 14 | 16 |
| US | 2 - 4 | 4 - 6 | 8 - 10 | 12 |
| EU | 34 - 36 | 36 - 38 | 40 - 42 | 44 |
| Jersey Tops | XS - S | S - M | M - L | L - XL |
| --- | --- | --- | --- | --- |
| UK/AU | 6 - 8 | 8 - 10 | 12 - 14 | 14 - 16 |
| US | 2 - 4 | 4 - 6 | 8 - 10 | 10 - 12 |
| EU | 34 - 36 | 36 - 38 | 40 - 42 | 42 - 44 |
| Jersey Tops | XS - S | S - M | M - L | L - XL |
| --- | --- | --- | --- | --- |
| UK/AU | 6 - 8 | 8 - 10 | 12 - 14 | 16 |
| US | 2 - 4 | 4 - 6 | 8 - 10 | 12 |
| EU | 34 - 36 | 36 - 38 | 40 - 42 | 44 |
| Jersey Tops | XS - S | S - M | M - L | L - XL |
| --- | --- | --- | --- | --- |
| UK/AU | 6 - 8 | 8 - 10 | 12 - 14 | 14 - 16 |
| US | 2 - 4 | 4 - 6 | 8 - 10 | 10 - 12 |
| EU | 34 - 36 | 36 - 38 | 40 - 42 | 42 - 44 |
| Jersey Tops | XS - S | S - M | M - L | L - XL |
| --- | --- | --- | --- | --- |
| UK/AU | 6 - 8 | 8 - 10 | 12 - 14 | 16 |
| US | 2 - 4 | 4 - 6 | 8 - 10 | 12 |
| EU | 34 - 36 | 36 - 38 | 40 - 42 | 44 |
| Jersey Tops | XS - S | S - M | M - L | L - XL |
| --- | --- | --- | --- | --- |
| UK/AU | 6 - 8 | 8 - 10 | 12 - 14 | 14 - 16 |
| US | 2 - 4 | 4 - 6 | 8 - 10 | 10 - 12 |
| EU | 34 - 36 | 36 - 38 | 40 - 42 | 42 - 44 |
| Jersey Tops | XS - S | S - M | M - L | L - XL |
| --- | --- | --- | --- | --- |
| UK/AU | 6 - 8 | 8 - 10 | 12 - 14 | 16 |
| US | 2 - 4 | 4 - 6 | 8 - 10 | 12 |
| EU | 34 - 36 | 36 - 38 | 40 - 42 | 44 |
| Jersey Tops | XS - S | S - M | M - L | L - XL |
| --- | --- | --- | --- | --- |
| UK/AU | 6 - 8 | 8 - 10 | 12 - 14 | 14 - 16 |
| US | 2 - 4 | 4 - 6 | 8 - 10 | 10 - 12 |
| EU | 34 - 36 | 36 - 38 | 40 - 42 | 42 - 44 |
| Jersey Tops | XS - S | S - M | M - L | L - XL |
| --- | --- | --- | --- | --- |
| UK/AU | 6 - 8 | 8 - 10 | 12 - 14 | 16 |
| US | 2 - 4 | 4 - 6 | 8 - 10 | 12 |
| EU | 34 - 36 | 36 - 38 | 40 - 42 | 44 |
| Jersey Tops | XS - S | S - M | M - L | L - XL |
| --- | --- | --- | --- | --- |
| UK/AU | 6 - 8 | 8 - 10 | 12 - 14 | 14 - 16 |
| US | 2 - 4 | 4 - 6 | 8 - 10 | 10 - 12 |
| EU | 34 - 36 | 36 - 38 | 40 - 42 | 42 - 44 |
| Jersey Tops | XS - S | S - M | M - L | L - XL |
| --- | --- | --- | --- | --- |
| UK/AU | 6 - 8 | 8 - 10 | 12 - 14 | 16 |
| US | 2 - 4 | 4 - 6 | 8 - 10 | 12 |
| EU | 34 - 36 | 36 - 38 | 40 - 42 | 44 |
| Jersey Tops | XS - S | S - M | M - L | L - XL |
| --- | --- | --- | --- | --- |
| UK/AU | 6 - 8 | 8 - 10 | 12 - 14 | 14 - 16 |
| US | 2 - 4 | 4 - 6 | 8 - 10 | 10 - 12 |
| EU | 34 - 36 | 36 - 38 | 40 - 42 | 42 - 44 |
| Jersey Tops | XS - S | S - M | M - L | L - XL |
| --- | --- | --- | --- | --- |
| UK/AU | 6 - 8 | 8 - 10 | 12 - 14 | 16 |
| US | 2 - 4 | 4 - 6 | 8 - 10 | 12 |
| EU | 34 - 36 | 36 - 38 | 40 - 42 | 44 |
| Jersey Tops | XS - S | S - M | M - L | L - XL |
| --- | --- | --- | --- | --- |
| UK/AU | 6 - 8 | 8 - 10 | 12 - 14 | 14 - 16 |
| US | 2 - 4 | 4 - 6 | 8 - 10 | 10 - 12 |
| EU | 34 - 36 | 36 - 38 | 40 - 42 | 42 - 44 |
| Jersey Tops | XS - S | S - M | M - L | L - XL |
| --- | --- | --- | --- | --- |
| UK/AU | 6 - 8 | 8 - 10 | 12 - 14 | 16 |
| US | 2 - 4 | 4 - 6 | 8 - 10 | 12 |
| EU | 34 - 36 | 36 - 38 | 40 - 42 | 44 |
| Jersey Tops | XS - S | S - M | M - L | L - XL |
| --- | --- | --- | --- | --- |
| UK/AU | 6 - 8 | 8 - 10 | 12 - 14 | 14 - 16 |
| US | 2 - 4 | 4 - 6 | 8 - 10 | 10 - 12 |
| EU | 34 - 36 | 36 - 38 | 40 - 42 | 42 - 44 |
| Jersey Tops | XS - S | S - M | M - L | L - XL |
| --- | --- | --- | --- | --- |
| UK/AU | 6 - 8 | 8 - 10 | 12 - 14 | 16 |
| US | 2 - 4 | 4 - 6 | 8 - 10 | 12 |
| EU | 34 - 36 | 36 - 38 | 40 - 42 | 44 |
| Jersey Tops | XS - S | S - M | M - L | L - XL |
| --- | --- | --- | --- | --- |
| UK/AU | 6 - 8 | 8 - 10 | 12 - 14 | 14 - 16 |
| US | 2 - 4 | 4 - 6 | 8 - 10 | 10 - 12 |
| EU | 34 - 36 | 36 - 38 | 40 - 42 | 42 - 44 |
| Jersey Tops | XS - S | S - M | M - L | L - XL |
| --- | --- | --- | --- | --- |
| UK/AU | 6 - 8 | 8 - 10 | 12 - 14 | 16 |
| US | 2 - 4 | 4 - 6 | 8 - 10 | 12 |
| EU | 34 - 36 | 36 - 38 | 40 - 42 | 44 |
| Jersey Tops | XS - S | S - M | M - L | L - XL |
| --- | --- | --- | --- | --- |
| UK/AU | 6 - 8 | 8 - 10 | 12 - 14 | 14 - 16 |
| US | 2 - 4 | 4 - 6 | 8 - 10 | 10 - 12 |
| EU | 34 - 36 | 36 - 38 | 40 - 42 | 42 - 44 |
| Jersey Tops | XS - S | S - M | M - L | L - XL |
| --- | --- | --- | --- | --- |
| UK/AU | 6 - 8 | 8 - 10 | 12 - 14 | 16 |
| US | 2 - 4 | 4 - 6 | 8 - 10 | 12 |
| EU | 34 - 36 | 36 - 38 | 40 - 42 | 44 |
| Jersey Tops | XS - S | S - M | M - L | L - XL |
| --- | --- | --- | --- | --- |
| UK/AU | 6 - 8 | 8 - 10 | 12 - 14 | 14 - 16 |
| US | 2 - 4 | 4 - 6 | 8 - 10 | 10 - 12 |
| EU | 34 - 36 | 36 - 38 | 40 - 42 | 42 - 44 |
| Jersey Tops | XS - S | S - M | M - L | L - XL |
| --- | --- | --- | --- | --- |
| UK/AU | 6 - 8 | 8 - 10 | 12 - 14 | 16 |
| US | 2 - 4 | 4 - 6 | 8 - 10 | 12 |
| EU | 34 - 36 | 36 - 38 | 40 - 42 | 44 |
| Jersey Tops | XS - S | S - M | M - L | L - XL |
| --- | --- | --- | --- | --- |
| UK/AU | 6 - 8 | 8 - 10 | 12 - 14 | 14 - 16 |
| US | 2 - 4 | 4 - 6 | 8 - 10 | 10 - 12 |
| EU | 34 - 36 | 36 - 38 | 40 - 42 | 42 - 44 |
| Jersey Tops | XS - S | S - M | M - L | L - XL |
| --- | --- | --- | --- | --- |
| UK/AU | 6 - 8 | 8 - 10 | 12 - 14 | 16 |
| US | 2 - 4 | 4 - 6 | 8 - 10 | 12 |
| EU | 34 - 36 | 36 - 38 | 40 - 42 | 44 |
| Jersey Tops | XS - S | S - M | M - L | L - XL |
| --- | --- | --- | --- | --- |
| UK/AU | 6 - 8 | 8 - 10 | 12 - 14 | 14 - 16 |
| US | 2 - 4 | 4 - 6 | 8 - 10 | 10 - 12 |
| EU | 34 - 36 | 36 - 38 | 40 - 42 | 42 - 44 |
| Jersey Tops | XS - S | S - M | M - L | L - XL |
| --- | --- | --- | --- | --- |
| UK/AU | 6 - 8 | 8 - 10 | 12 - 14 | 16 |
| US | 2 - 4 | 4 - 6 | 8 - 10 | 12 |
| EU | 34 - 36 | 36 - 38 | 40 - 42 | 44 |
| Jersey Tops | XS - S | S - M | M - L | L - XL |
| --- | --- | --- | --- | --- |
| UK/AU | 6 - 8 | 8 - 10 | 12 - 14 | 14 - 16 |
| US | 2 - 4 | 4 - 6 | 8 - 10 | 10 - 12 |
| EU | 34 - 36 | 36 - 38 | 40 - 42 | 42 - 44 |
| Jersey Tops | XS - S | S - M | M - L | L - XL |
| --- | --- | --- | --- | --- |
| UK/AU | 6 - 8 | 8 - 10 | 12 - 14 | 16 |
| US | 2 - 4 | 4 - 6 | 8 - 10 | 12 |
| EU | 34 - 36 | 36 - 38 | 40 - 42 | 44 |
| Jersey Tops | XS - S | S - M | M - L | L - XL |
| --- | --- | --- | --- | --- |
| UK/AU | 6 - 8 | 8 - 10 | 12 - 14 | 14 - 16 |
| US | 2 - 4 | 4 - 6 | 8 - 10 | 10 - 12 |
| EU | 34 - 36 | 36 - 38 | 40 - 42 | 42 - 44 |
| Jersey Tops | XS - S | S - M | M - L | L - XL |
| --- | --- | --- | --- | --- |
| UK/AU | 6 - 8 | 8 - 10 | 12 - 14 | 16 |
| US | 2 - 4 | 4 - 6 | 8 - 10 | 12 |
| EU | 34 - 36 | 36 - 38 | 40 - 42 | 44 |
| Jersey Tops | XS - S | S - M | M - L | L - XL |
| --- | --- | --- | --- | --- |
| UK/AU | 6 - 8 | 8 - 10 | 12 - 14 | 14 - 16 |
| US | 2 - 4 | 4 - 6 | 8 - 10 | 10 - 12 |
| EU | 34 - 36 | 36 - 38 | 40 - 42 | 42 - 44 |
| Jersey Tops | XS - S | S - M | M - L | L - XL |
| --- | --- | --- | --- | --- |
| UK/AU | 6 - 8 | 8 - 10 | 12 - 14 | 16 |
| US | 2 - 4 | 4 - 6 | 8 - 10 | 12 |
| EU | 34 - 36 | 36 - 38 | 40 - 42 | 44 |
| Jersey Tops | XS - S | S - M | M - L | L - XL |
| --- | --- | --- | --- | --- |
| UK/AU | 6 - 8 | 8 - 10 | 12 - 14 | 14 - 16 |
| US | 2 - 4 | 4 - 6 | 8 - 10 | 10 - 12 |
| EU | 34 - 36 | 36 - 38 | 40 - 42 | 42 - 44 |
| Jersey Tops | XS - S | S - M | M - L | L - XL |
| --- | --- | --- | --- | --- |
| UK/AU | 6 - 8 | 8 - 10 | 12 - 14 | 16 |
| US | 2 - 4 | 4 - 6 | 8 - 10 | 12 |
| EU | 34 - 36 | 36 - 38 | 40 - 42 | 44 |
| Jersey Tops | XS - S | S - M | M - L | L - XL |
| --- | --- | --- | --- | --- |
| UK/AU | 6 - 8 | 8 - 10 | 12 - 14 | 14 - 16 |
| US | 2 - 4 | 4 - 6 | 8 - 10 | 10 - 12 |
| EU | 34 - 36 | 36 - 38 | 40 - 42 | 42 - 44 |
| Jersey Tops | XS | S | M | L |
| --- | --- | --- | --- | --- |
| UK/AU | 6 - 8 | 10 - 12 | 12 - 14 | 14 - 16 |
| US | 2 - 4 | 6 - 8 | 8 - 10 | 10 - 12 |
| EU | 34 - 36 | 36 - 38 | 38 - 40 | 40 - 42 |
| Jersey Tops | XS - S | S - M | M - L | L - XL |
| --- | --- | --- | --- | --- |
| UK/AU | 6 - 8 | 8 - 10 | 12 - 14 | 14 - 16 |
| US | 2 - 4 | 4 - 6 | 8 - 10 | 10 - 12 |
| EU | 34 - 36 | 36 - 38 | 40 - 42 | 42 - 44 |
| Jersey Tops | XS - S | S - M | M - L | L - XL |
| --- | --- | --- | --- | --- |
| UK/AU | 6 - 8 | 8 - 10 | 12 - 14 | 16 |
| US | 2 - 4 | 4 - 6 | 8 - 10 | 12 |
| EU | 34 - 36 | 36 - 38 | 40 - 42 | 44 |
| Jersey Tops | XS - S | S - M | M - L | L - XL |
| --- | --- | --- | --- | --- |
| UK/AU | 6 - 8 | 8 - 10 | 12 - 14 | 14 - 16 |
| US | 2 - 4 | 4 - 6 | 8 - 10 | 10 - 12 |
| EU | 34 - 36 | 36 - 38 | 40 - 42 | 42 - 44 |
| Jersey Tops | XS - S | S - M | M - L | L - XL |
| --- | --- | --- | --- | --- |
| UK/AU | 6 - 8 | 8 - 10 | 12 - 14 | 16 |
| US | 2 - 4 | 4 - 6 | 8 - 10 | 12 |
| EU | 34 - 36 | 36 - 38 | 40 - 42 | 44 |
| Jersey Tops | XS - S | S - M | M - L | L - XL |
| --- | --- | --- | --- | --- |
| UK/AU | 6 - 8 | 8 - 10 | 12 - 14 | 14 - 16 |
| US | 2 - 4 | 4 - 6 | 8 - 10 | 10 - 12 |
| EU | 34 - 36 | 36 - 38 | 40 - 42 | 42 - 44 |
| Jersey Tops | XS - S | S - M | M - L | L - XL |
| --- | --- | --- | --- | --- |
| UK/AU | 6 - 8 | 8 - 10 | 12 - 14 | 16 |
| US | 2 - 4 | 4 - 6 | 8 - 10 | 12 |
| EU | 34 - 36 | 36 - 38 | 40 - 42 | 44 |
| Jersey Tops | XS - S | S - M | M - L | L - XL |
| --- | --- | --- | --- | --- |
| UK/AU | 6 - 8 | 8 - 10 | 12 - 14 | 14 - 16 |
| US | 2 - 4 | 4 - 6 | 8 - 10 | 10 - 12 |
| EU | 34 - 36 | 36 - 38 | 40 - 42 | 42 - 44 |
| Jersey Tops | XS - S | S - M | M - L | L - XL |
| --- | --- | --- | --- | --- |
| UK/AU | 6 - 8 | 8 - 10 | 12 - 14 | 16 |
| US | 2 - 4 | 4 - 6 | 8 - 10 | 12 |
| EU | 34 - 36 | 36 - 38 | 40 - 42 | 44 |
| Jersey Tops | XS - S | S - M | M - L | L - XL |
| --- | --- | --- | --- | --- |
| UK/AU | 6 - 8 | 8 - 10 | 12 - 14 | 14 - 16 |
| US | 2 - 4 | 4 - 6 | 8 - 10 | 10 - 12 |
| EU | 34 - 36 | 36 - 38 | 40 - 42 | 42 - 44 |
| Jersey Tops | XS - S | S - M | M - L | L - XL |
| --- | --- | --- | --- | --- |
| UK/AU | 6 - 8 | 8 - 10 | 12 - 14 | 16 |
| US | 2 - 4 | 4 - 6 | 8 - 10 | 12 |
| EU | 34 - 36 | 36 - 38 | 40 - 42 | 44 |
| Jersey Tops | XS - S | S - M | M - L | L - XL |
| --- | --- | --- | --- | --- |
| UK/AU | 6 - 8 | 8 - 10 | 12 - 14 | 14 - 16 |
| US | 2 - 4 | 4 - 6 | 8 - 10 | 10 - 12 |
| EU | 34 - 36 | 36 - 38 | 40 - 42 | 42 - 44 |
| Jersey Tops | XS - S | S - M | M - L | L - XL |
| --- | --- | --- | --- | --- |
| UK/AU | 6 - 8 | 8 - 10 | 12 - 14 | 16 |
| US | 2 - 4 | 4 - 6 | 8 - 10 | 12 |
| EU | 34 - 36 | 36 - 38 | 40 - 42 | 44 |
| Jersey Tops | XS - S | S - M | M - L | L - XL |
| --- | --- | --- | --- | --- |
| UK/AU | 6 - 8 | 8 - 10 | 12 - 14 | 14 - 16 |
| US | 2 - 4 | 4 - 6 | 8 - 10 | 10 - 12 |
| EU | 34 - 36 | 36 - 38 | 40 - 42 | 42 - 44 |
| Jersey Tops | XS - S | S - M | M - L | L - XL |
| --- | --- | --- | --- | --- |
| UK/AU | 6 - 8 | 8 - 10 | 12 - 14 | 16 |
| US | 2 - 4 | 4 - 6 | 8 - 10 | 12 |
| EU | 34 - 36 | 36 - 38 | 40 - 42 | 44 |
| Jersey Tops | XS - S | S - M | M - L | L - XL |
| --- | --- | --- | --- | --- |
| UK/AU | 6 - 8 | 8 - 10 | 12 - 14 | 14 - 16 |
| US | 2 - 4 | 4 - 6 | 8 - 10 | 10 - 12 |
| EU | 34 - 36 | 36 - 38 | 40 - 42 | 42 - 44 |
| Jersey Tops | XS - S | S - M | M - L | L - XL |
| --- | --- | --- | --- | --- |
| UK/AU | 6 - 8 | 8 - 10 | 12 - 14 | 16 |
| US | 2 - 4 | 4 - 6 | 8 - 10 | 12 |
| EU | 34 - 36 | 36 - 38 | 40 - 42 | 44 |
| Jersey Tops | XS - S | S - M | M - L | L - XL |
| --- | --- | --- | --- | --- |
| UK/AU | 6 - 8 | 8 - 10 | 12 - 14 | 14 - 16 |
| US | 2 - 4 | 4 - 6 | 8 - 10 | 10 - 12 |
| EU | 34 - 36 | 36 - 38 | 40 - 42 | 42 - 44 |
| Jersey Tops | XS - S | S - M | M - L | L - XL |
| --- | --- | --- | --- | --- |
| UK/AU | 6 - 8 | 8 - 10 | 12 - 14 | 16 |
| US | 2 - 4 | 4 - 6 | 8 - 10 | 12 |
| EU | 34 - 36 | 36 - 38 | 40 - 42 | 44 |
| Jersey Tops | XS - S | S - M | M - L | L - XL |
| --- | --- | --- | --- | --- |
| UK/AU | 6 - 8 | 8 - 10 | 12 - 14 | 14 - 16 |
| US | 2 - 4 | 4 - 6 | 8 - 10 | 10 - 12 |
| EU | 34 - 36 | 36 - 38 | 40 - 42 | 42 - 44 |
| Jersey Tops | XS - S | S - M | M - L | L - XL |
| --- | --- | --- | --- | --- |
| UK/AU | 6 - 8 | 8 - 10 | 12 - 14 | 16 |
| US | 2 - 4 | 4 - 6 | 8 - 10 | 12 |
| EU | 34 - 36 | 36 - 38 | 40 - 42 | 44 |
| Jersey Tops | XS - S | S - M | M - L | L - XL |
| --- | --- | --- | --- | --- |
| UK/AU | 6 - 8 | 8 - 10 | 12 - 14 | 14 - 16 |
| US | 2 - 4 | 4 - 6 | 8 - 10 | 10 - 12 |
| EU | 34 - 36 | 36 - 38 | 40 - 42 | 42 - 44 |
| Jersey Tops | XS - S | S - M | M - L | L - XL |
| --- | --- | --- | --- | --- |
| UK/AU | 6 - 8 | 8 - 10 | 12 - 14 | 16 |
| US | 2 - 4 | 4 - 6 | 8 - 10 | 12 |
| EU | 34 - 36 | 36 - 38 | 40 - 42 | 44 |
| Jersey Tops | XS - S | S - M | M - L | L - XL |
| --- | --- | --- | --- | --- |
| UK/AU | 6 - 8 | 8 - 10 | 12 - 14 | 14 - 16 |
| US | 2 - 4 | 4 - 6 | 8 - 10 | 10 - 12 |
| EU | 34 - 36 | 36 - 38 | 40 - 42 | 42 - 44 |
| Jersey Tops | XS - S | S - M | M - L | L - XL |
| --- | --- | --- | --- | --- |
| UK/AU | 6 - 8 | 8 - 10 | 12 - 14 | 16 |
| US | 2 - 4 | 4 - 6 | 8 - 10 | 12 |
| EU | 34 - 36 | 36 - 38 | 40 - 42 | 44 |
| Jersey Tops | XS - S | S - M | M - L | L - XL |
| --- | --- | --- | --- | --- |
| UK/AU | 6 - 8 | 8 - 10 | 12 - 14 | 14 - 16 |
| US | 2 - 4 | 4 - 6 | 8 - 10 | 10 - 12 |
| EU | 34 - 36 | 36 - 38 | 40 - 42 | 42 - 44 |
| Jersey Tops | XS - S | S - M | M - L | L - XL |
| --- | --- | --- | --- | --- |
| UK/AU | 6 - 8 | 8 - 10 | 12 - 14 | 16 |
| US | 2 - 4 | 4 - 6 | 8 - 10 | 12 |
| EU | 34 - 36 | 36 - 38 | 40 - 42 | 44 |
| Jersey Tops | XS - S | S - M | M - L | L - XL |
| --- | --- | --- | --- | --- |
| UK/AU | 6 - 8 | 8 - 10 | 12 - 14 | 14 - 16 |
| US | 2 - 4 | 4 - 6 | 8 - 10 | 10 - 12 |
| EU | 34 - 36 | 36 - 38 | 40 - 42 | 42 - 44 |
| Jersey Tops | XS - S | S - M | M - L | L - XL |
| --- | --- | --- | --- | --- |
| UK/AU | 6 - 8 | 8 - 10 | 12 - 14 | 16 |
| US | 2 - 4 | 4 - 6 | 8 - 10 | 12 |
| EU | 34 - 36 | 36 - 38 | 40 - 42 | 44 |
| Jersey Tops | XS - S | S - M | M - L | L - XL |
| --- | --- | --- | --- | --- |
| UK/AU | 6 - 8 | 8 - 10 | 12 - 14 | 14 - 16 |
| US | 2 - 4 | 4 - 6 | 8 - 10 | 10 - 12 |
| EU | 34 - 36 | 36 - 38 | 40 - 42 | 42 - 44 |
| Jersey Tops | XS - S | S - M | M - L | L - XL |
| --- | --- | --- | --- | --- |
| UK/AU | 6 - 8 | 8 - 10 | 12 - 14 | 16 |
| US | 2 - 4 | 4 - 6 | 8 - 10 | 12 |
| EU | 34 - 36 | 36 - 38 | 40 - 42 | 44 |
| Jersey Tops | XS - S | S - M | M - L | L - XL |
| --- | --- | --- | --- | --- |
| UK/AU | 6 - 8 | 8 - 10 | 12 - 14 | 14 - 16 |
| US | 2 - 4 | 4 - 6 | 8 - 10 | 10 - 12 |
| EU | 34 - 36 | 36 - 38 | 40 - 42 | 42 - 44 |
| Jersey Tops | XS - S | S - M | M - L | L - XL |
| --- | --- | --- | --- | --- |
| UK/AU | 6 - 8 | 8 - 10 | 12 - 14 | 16 |
| US | 2 - 4 | 4 - 6 | 8 - 10 | 12 |
| EU | 34 - 36 | 36 - 38 | 40 - 42 | 44 |
| Jersey Tops | XS - S | S - M | M - L | L - XL |
| --- | --- | --- | --- | --- |
| UK/AU | 6 - 8 | 8 - 10 | 12 - 14 | 14 - 16 |
| US | 2 - 4 | 4 - 6 | 8 - 10 | 10 - 12 |
| EU | 34 - 36 | 36 - 38 | 40 - 42 | 42 - 44 |
| Jersey Tops | XS - S | S - M | M - L | L - XL |
| --- | --- | --- | --- | --- |
| UK/AU | 6 - 8 | 8 - 10 | 12 - 14 | 16 |
| US | 2 - 4 | 4 - 6 | 8 - 10 | 12 |
| EU | 34 - 36 | 36 - 38 | 40 - 42 | 44 |
| Jersey Tops | XS - S | S - M | M - L | L - XL |
| --- | --- | --- | --- | --- |
| UK/AU | 6 - 8 | 8 - 10 | 12 - 14 | 14 - 16 |
| US | 2 - 4 | 4 - 6 | 8 - 10 | 10 - 12 |
| EU | 34 - 36 | 36 - 38 | 40 - 42 | 42 - 44 |
| Jersey Tops | XS - S | S - M | M - L | L - XL |
| --- | --- | --- | --- | --- |
| UK/AU | 6 - 8 | 8 - 10 | 12 - 14 | 16 |
| US | 2 - 4 | 4 - 6 | 8 - 10 | 12 |
| EU | 34 - 36 | 36 - 38 | 40 - 42 | 44 |
| Jersey Tops | XS - S | S - M | M - L | L - XL |
| --- | --- | --- | --- | --- |
| UK/AU | 6 - 8 | 8 - 10 | 12 - 14 | 14 - 16 |
| US | 2 - 4 | 4 - 6 | 8 - 10 | 10 - 12 |
| EU | 34 - 36 | 36 - 38 | 40 - 42 | 42 - 44 |
| Jersey Tops | XS - S | S - M | M - L | L - XL |
| --- | --- | --- | --- | --- |
| UK/AU | 6 - 8 | 8 - 10 | 12 - 14 | 16 |
| US | 2 - 4 | 4 - 6 | 8 - 10 | 12 |
| EU | 34 - 36 | 36 - 38 | 40 - 42 | 44 |
| Jersey Tops | XS - S | S - M | M - L | L - XL |
| --- | --- | --- | --- | --- |
| UK/AU | 6 - 8 | 8 - 10 | 12 - 14 | 14 - 16 |
| US | 2 - 4 | 4 - 6 | 8 - 10 | 10 - 12 |
| EU | 34 - 36 | 36 - 38 | 40 - 42 | 42 - 44 |
| Jersey Tops | XS - S | S - M | M - L | L - XL |
| --- | --- | --- | --- | --- |
| UK/AU | 6 - 8 | 8 - 10 | 12 - 14 | 16 |
| US | 2 - 4 | 4 - 6 | 8 - 10 | 12 |
| EU | 34 - 36 | 36 - 38 | 40 - 42 | 44 |
| Jersey Tops | XS - S | S - M | M - L | L - XL |
| --- | --- | --- | --- | --- |
| UK/AU | 6 - 8 | 8 - 10 | 12 - 14 | 14 - 16 |
| US | 2 - 4 | 4 - 6 | 8 - 10 | 10 - 12 |
| EU | 34 - 36 | 36 - 38 | 40 - 42 | 42 - 44 |
| Jersey Tops | XS - S | S - M | M - L | L - XL |
| --- | --- | --- | --- | --- |
| UK/AU | 6 - 8 | 8 - 10 | 12 - 14 | 16 |
| US | 2 - 4 | 4 - 6 | 8 - 10 | 12 |
| EU | 34 - 36 | 36 - 38 | 40 - 42 | 44 |
| Jersey Tops | XS - S | S - M | M - L | L - XL |
| --- | --- | --- | --- | --- |
| UK/AU | 6 - 8 | 8 - 10 | 12 - 14 | 14 - 16 |
| US | 2 - 4 | 4 - 6 | 8 - 10 | 10 - 12 |
| EU | 34 - 36 | 36 - 38 | 40 - 42 | 42 - 44 |
| Jersey Tops | XS - S | S - M | M - L | L - XL |
| --- | --- | --- | --- | --- |
| UK/AU | 6 - 8 | 8 - 10 | 12 - 14 | 16 |
| US | 2 - 4 | 4 - 6 | 8 - 10 | 12 |
| EU | 34 - 36 | 36 - 38 | 40 - 42 | 44 |
| Jersey Tops | XS - S | S - M | M - L | L - XL |
| --- | --- | --- | --- | --- |
| UK/AU | 6 - 8 | 8 - 10 | 12 - 14 | 14 - 16 |
| US | 2 - 4 | 4 - 6 | 8 - 10 | 10 - 12 |
| EU | 34 - 36 | 36 - 38 | 40 - 42 | 42 - 44 |
| Jersey Tops | XS - S | S - M | M - L | L - XL |
| --- | --- | --- | --- | --- |
| UK/AU | 6 - 8 | 8 - 10 | 12 - 14 | 16 |
| US | 2 - 4 | 4 - 6 | 8 - 10 | 12 |
| EU | 34 - 36 | 36 - 38 | 40 - 42 | 44 |
| Jersey Tops | XS - S | S - M | M - L | L - XL |
| --- | --- | --- | --- | --- |
| UK/AU | 6 - 8 | 8 - 10 | 12 - 14 | 14 - 16 |
| US | 2 - 4 | 4 - 6 | 8 - 10 | 10 - 12 |
| EU | 34 - 36 | 36 - 38 | 40 - 42 | 42 - 44 |
| Jersey Tops | XS - S | S - M | M - L | L - XL |
| --- | --- | --- | --- | --- |
| UK/AU | 6 - 8 | 8 - 10 | 12 - 14 | 16 |
| US | 2 - 4 | 4 - 6 | 8 - 10 | 12 |
| EU | 34 - 36 | 36 - 38 | 40 - 42 | 44 |
| Jersey Tops | XS - S | S - M | M - L | L - XL |
| --- | --- | --- | --- | --- |
| UK/AU | 6 - 8 | 8 - 10 | 12 - 14 | 14 - 16 |
| US | 2 - 4 | 4 - 6 | 8 - 10 | 10 - 12 |
| EU | 34 - 36 | 36 - 38 | 40 - 42 | 42 - 44 |
| Jersey Tops | XS - S | S - M | M - L | L - XL |
| --- | --- | --- | --- | --- |
| UK/AU | 6 - 8 | 8 - 10 | 12 - 14 | 16 |
| US | 2 - 4 | 4 - 6 | 8 - 10 | 12 |
| EU | 34 - 36 | 36 - 38 | 40 - 42 | 44 |
| Jersey Tops | XS - S | S - M | M - L | L - XL |
| --- | --- | --- | --- | --- |
| UK/AU | 6 - 8 | 8 - 10 | 12 - 14 | 14 - 16 |
| US | 2 - 4 | 4 - 6 | 8 - 10 | 10 - 12 |
| EU | 34 - 36 | 36 - 38 | 40 - 42 | 42 - 44 |
| Jersey Tops | XS - S | S - M | M - L | L - XL |
| --- | --- | --- | --- | --- |
| UK/AU | 6 - 8 | 8 - 10 | 12 - 14 | 16 |
| US | 2 - 4 | 4 - 6 | 8 - 10 | 12 |
| EU | 34 - 36 | 36 - 38 | 40 - 42 | 44 |
| Jersey Tops | XS - S | S - M | M - L | L - XL |
| --- | --- | --- | --- | --- |
| UK/AU | 6 - 8 | 8 - 10 | 12 - 14 | 14 - 16 |
| US | 2 - 4 | 4 - 6 | 8 - 10 | 10 - 12 |
| EU | 34 - 36 | 36 - 38 | 40 - 42 | 42 - 44 |
| Jersey Tops | XS - S | S - M | M - L | L - XL |
| --- | --- | --- | --- | --- |
| UK/AU | 6 - 8 | 8 - 10 | 12 - 14 | 16 |
| US | 2 - 4 | 4 - 6 | 8 - 10 | 12 |
| EU | 34 - 36 | 36 - 38 | 40 - 42 | 44 |
| Jersey Tops | XS - S | S - M | M - L | L - XL |
| --- | --- | --- | --- | --- |
| UK/AU | 6 - 8 | 8 - 10 | 12 - 14 | 14 - 16 |
| US | 2 - 4 | 4 - 6 | 8 - 10 | 10 - 12 |
| EU | 34 - 36 | 36 - 38 | 40 - 42 | 42 - 44 |
| Jersey Tops | XS - S | S - M | M - L | L - XL |
| --- | --- | --- | --- | --- |
| UK/AU | 6 - 8 | 8 - 10 | 12 - 14 | 16 |
| US | 2 - 4 | 4 - 6 | 8 - 10 | 12 |
| EU | 34 - 36 | 36 - 38 | 40 - 42 | 44 |
| Jersey Tops | XS - S | S - M | M - L | L - XL |
| --- | --- | --- | --- | --- |
| UK/AU | 6 - 8 | 8 - 10 | 12 - 14 | 14 - 16 |
| US | 2 - 4 | 4 - 6 | 8 - 10 | 10 - 12 |
| EU | 34 - 36 | 36 - 38 | 40 - 42 | 42 - 44 |
| Jersey Tops | XS - S | S - M | M - L | L - XL |
| --- | --- | --- | --- | --- |
| UK/AU | 6 - 8 | 8 - 10 | 12 - 14 | 16 |
| US | 2 - 4 | 4 - 6 | 8 - 10 | 12 |
| EU | 34 - 36 | 36 - 38 | 40 - 42 | 44 |
| Jersey Tops | XS - S | S - M | M - L | L - XL |
| --- | --- | --- | --- | --- |
| UK/AU | 6 - 8 | 8 - 10 | 12 - 14 | 14 - 16 |
| US | 2 - 4 | 4 - 6 | 8 - 10 | 10 - 12 |
| EU | 34 - 36 | 36 - 38 | 40 - 42 | 42 - 44 |
| Jersey Tops | XS - S | S - M | M - L | L - XL |
| --- | --- | --- | --- | --- |
| UK/AU | 6 - 8 | 8 - 10 | 12 - 14 | 16 |
| US | 2 - 4 | 4 - 6 | 8 - 10 | 12 |
| EU | 34 - 36 | 36 - 38 | 40 - 42 | 44 |
| Jersey Tops | XS - S | S - M | M - L | L - XL |
| --- | --- | --- | --- | --- |
| UK/AU | 6 - 8 | 8 - 10 | 12 - 14 | 14 - 16 |
| US | 2 - 4 | 4 - 6 | 8 - 10 | 10 - 12 |
| EU | 34 - 36 | 36 - 38 | 40 - 42 | 42 - 44 |
| Jersey Tops | XS - S | S - M | M - L | L - XL |
| --- | --- | --- | --- | --- |
| UK/AU | 6 - 8 | 8 - 10 | 12 - 14 | 16 |
| US | 2 - 4 | 4 - 6 | 8 - 10 | 12 |
| EU | 34 - 36 | 36 - 38 | 40 - 42 | 44 |
| Jersey Tops | XS - S | S - M | M - L | L - XL |
| --- | --- | --- | --- | --- |
| UK/AU | 6 - 8 | 8 - 10 | 12 - 14 | 14 - 16 |
| US | 2 - 4 | 4 - 6 | 8 - 10 | 10 - 12 |
| EU | 34 - 36 | 36 - 38 | 40 - 42 | 42 - 44 |
| UK Measurements | 6 - 8 / XS | 10 - 12 / S | 12 - 14 / M | 14 - 16 / L |
| --- | --- | --- | --- | --- |
| Bust (cm) | 81.5 - 86.5 | 86.5 - 91.5 | 91.5 - 96.5 | 96.5 - 101.5 |
| Bust (in) | 32 - 34 | 34 - 36 | 36 - 38 | 38 - 40 |
| Waist (cm) | 66.5 - 71.5 | 71.5 - 76.5 | 76.5 - 81.5 | 81.5 - 86.5 |
| Waist (in) | 26 - 28 | 28 - 30 | 30 - 32 | 32 - 34 |
| UK Measurements | 6 - 8 / XS - S | 8 - 10 / S - M | 12 - 14 / M - L | 14 - 16 / L - XL |
| --- | --- | --- | --- | --- |
| Bust (cm) | 60 - 70 | 70 - 80 | 80 - 90 | 90 - 95 |
| Bust (in) | 23 - 27 | 27 - 31 | 31 - 35 | 35 - 37 |
| Waist (cm) | 85 - 95 | 95 - 105 | 105 - 115 | 115 - 125 |
| Waist (in) | 33 - 37 | 37 - 41 | 41 - 45 | 45 - 49 |
| UK Measurements | 6 - 8 / XS - S | 8 - 10 / S - M | 12 - 14 / M - L | 16 / L - XL |
| --- | --- | --- | --- | --- |
| Bust (cm) | 60 - 70 | 70 - 80 | 80 - 90 | 90 - 95 |
| Bust (in) | 23 - 27 | 27 - 31 | 31 - 35 | 35 - 37 |
| Waist (cm) | 85 - 95 | 95 - 105 | 105 - 115 | 115 - 125 |
| Waist (in) | 33 - 37 | 37 - 41 | 41 - 45 | 45 - 49 |
| UK Measurements | 6 - 8 / XS - S | 8 - 10 / S - M | 12 - 14 / M - L | 14 - 16 / L - XL |
| --- | --- | --- | --- | --- |
| Bust (cm) | 60 - 70 | 70 - 80 | 80 - 90 | 90 - 95 |
| Bust (in) | 23 - 27 | 27 - 31 | 31 - 35 | 35 - 37 |
| Waist (cm) | 85 - 95 | 95 - 105 | 105 - 115 | 115 - 125 |
| Waist (in) | 33 - 37 | 37 - 41 | 41 - 45 | 45 - 49 |
| UK Measurements | 6 - 8 / XS - S | 8 - 10 / S - M | 12 - 14 / M - L | 16 / L - XL |
| --- | --- | --- | --- | --- |
| Bust (cm) | 60 - 70 | 70 - 80 | 80 - 90 | 90 - 95 |
| Bust (in) | 23 - 27 | 27 - 31 | 31 - 35 | 35 - 37 |
| Waist (cm) | 85 - 95 | 95 - 105 | 105 - 115 | 115 - 125 |
| Waist (in) | 33 - 37 | 37 - 41 | 41 - 45 | 45 - 49 |
| UK Measurements | 6 - 8 / XS - S | 8 - 10 / S - M | 12 - 14 / M - L | 14 - 16 / L - XL |
| --- | --- | --- | --- | --- |
| Bust (cm) | 60 - 70 | 70 - 80 | 80 - 90 | 90 - 95 |
| Bust (in) | 23 - 27 | 27 - 31 | 31 - 35 | 35 - 37 |
| Waist (cm) | 85 - 95 | 95 - 105 | 105 - 115 | 115 - 125 |
| Waist (in) | 33 - 37 | 37 - 41 | 41 - 45 | 45 - 49 |
| UK Measurements | 6 - 8 / XS - S | 8 - 10 / S - M | 12 - 14 / M - L | 16 / L - XL |
| --- | --- | --- | --- | --- |
| Bust (cm) | 60 - 70 | 70 - 80 | 80 - 90 | 90 - 95 |
| Bust (in) | 23 - 27 | 27 - 31 | 31 - 35 | 35 - 37 |
| Waist (cm) | 85 - 95 | 95 - 105 | 105 - 115 | 115 - 125 |
| Waist (in) | 33 - 37 | 37 - 41 | 41 - 45 | 45 - 49 |
| UK Measurements | 6 - 8 / XS - S | 8 - 10 / S - M | 12 - 14 / M - L | 14 - 16 / L - XL |
| --- | --- | --- | --- | --- |
| Bust (cm) | 60 - 70 | 70 - 80 | 80 - 90 | 90 - 95 |
| Bust (in) | 23 - 27 | 27 - 31 | 31 - 35 | 35 - 37 |
| Waist (cm) | 85 - 95 | 95 - 105 | 105 - 115 | 115 - 125 |
| Waist (in) | 33 - 37 | 37 - 41 | 41 - 45 | 45 - 49 |
| UK Measurements | 6 - 8 / XS - S | 8 - 10 / S - M | 12 - 14 / M - L | 16 / L - XL |
| --- | --- | --- | --- | --- |
| Bust (cm) | 60 - 70 | 70 - 80 | 80 - 90 | 90 - 95 |
| Bust (in) | 23 - 27 | 27 - 31 | 31 - 35 | 35 - 37 |
| Waist (cm) | 85 - 95 | 95 - 105 | 105 - 115 | 115 - 125 |
| Waist (in) | 33 - 37 | 37 - 41 | 41 - 45 | 45 - 49 |
| UK Measurements | 6 - 8 / XS - S | 8 - 10 / S - M | 12 - 14 / M - L | 14 - 16 / L - XL |
| --- | --- | --- | --- | --- |
| Bust (cm) | 60 - 70 | 70 - 80 | 80 - 90 | 90 - 95 |
| Bust (in) | 23 - 27 | 27 - 31 | 31 - 35 | 35 - 37 |
| Waist (cm) | 85 - 95 | 95 - 105 | 105 - 115 | 115 - 125 |
| Waist (in) | 33 - 37 | 37 - 41 | 41 - 45 | 45 - 49 |
| UK Measurements | 6 - 8 / XS - S | 8 - 10 / S - M | 12 - 14 / M - L | 16 / L - XL |
| --- | --- | --- | --- | --- |
| Bust (cm) | 60 - 70 | 70 - 80 | 80 - 90 | 90 - 95 |
| Bust (in) | 23 - 27 | 27 - 31 | 31 - 35 | 35 - 37 |
| Waist (cm) | 85 - 95 | 95 - 105 | 105 - 115 | 115 - 125 |
| Waist (in) | 33 - 37 | 37 - 41 | 41 - 45 | 45 - 49 |
| UK Measurements | 6 - 8 / XS - S | 8 - 10 / S - M | 12 - 14 / M - L | 14 - 16 / L - XL |
| --- | --- | --- | --- | --- |
| Bust (cm) | 60 - 70 | 70 - 80 | 80 - 90 | 90 - 95 |
| Bust (in) | 23 - 27 | 27 - 31 | 31 - 35 | 35 - 37 |
| Waist (cm) | 85 - 95 | 95 - 105 | 105 - 115 | 115 - 125 |
| Waist (in) | 33 - 37 | 37 - 41 | 41 - 45 | 45 - 49 |
| UK Measurements | 6 - 8 / XS - S | 8 - 10 / S - M | 12 - 14 / M - L | 16 / L - XL |
| --- | --- | --- | --- | --- |
| Bust (cm) | 60 - 70 | 70 - 80 | 80 - 90 | 90 - 95 |
| Bust (in) | 23 - 27 | 27 - 31 | 31 - 35 | 35 - 37 |
| Waist (cm) | 85 - 95 | 95 - 105 | 105 - 115 | 115 - 125 |
| Waist (in) | 33 - 37 | 37 - 41 | 41 - 45 | 45 - 49 |
| UK Measurements | 6 - 8 / XS - S | 8 - 10 / S - M | 12 - 14 / M - L | 14 - 16 / L - XL |
| --- | --- | --- | --- | --- |
| Bust (cm) | 60 - 70 | 70 - 80 | 80 - 90 | 90 - 95 |
| Bust (in) | 23 - 27 | 27 - 31 | 31 - 35 | 35 - 37 |
| Waist (cm) | 85 - 95 | 95 - 105 | 105 - 115 | 115 - 125 |
| Waist (in) | 33 - 37 | 37 - 41 | 41 - 45 | 45 - 49 |
| UK Measurements | 6 - 8 / XS - S | 8 - 10 / S - M | 12 - 14 / M - L | 16 / L - XL |
| --- | --- | --- | --- | --- |
| Bust (cm) | 60 - 70 | 70 - 80 | 80 - 90 | 90 - 95 |
| Bust (in) | 23 - 27 | 27 - 31 | 31 - 35 | 35 - 37 |
| Waist (cm) | 85 - 95 | 95 - 105 | 105 - 115 | 115 - 125 |
| Waist (in) | 33 - 37 | 37 - 41 | 41 - 45 | 45 - 49 |
| UK Measurements | 6 - 8 / XS - S | 8 - 10 / S - M | 12 - 14 / M - L | 14 - 16 / L - XL |
| --- | --- | --- | --- | --- |
| Bust (cm) | 60 - 70 | 70 - 80 | 80 - 90 | 90 - 95 |
| Bust (in) | 23 - 27 | 27 - 31 | 31 - 35 | 35 - 37 |
| Waist (cm) | 85 - 95 | 95 - 105 | 105 - 115 | 115 - 125 |
| Waist (in) | 33 - 37 | 37 - 41 | 41 - 45 | 45 - 49 |
| UK Measurements | 6 - 8 / XS - S | 8 - 10 / S - M | 12 - 14 / M - L | 16 / L - XL |
| --- | --- | --- | --- | --- |
| Bust (cm) | 60 - 70 | 70 - 80 | 80 - 90 | 90 - 95 |
| Bust (in) | 23 - 27 | 27 - 31 | 31 - 35 | 35 - 37 |
| Waist (cm) | 85 - 95 | 95 - 105 | 105 - 115 | 115 - 125 |
| Waist (in) | 33 - 37 | 37 - 41 | 41 - 45 | 45 - 49 |
| UK Measurements | 6 - 8 / XS - S | 8 - 10 / S - M | 12 - 14 / M - L | 14 - 16 / L - XL |
| --- | --- | --- | --- | --- |
| Bust (cm) | 60 - 70 | 70 - 80 | 80 - 90 | 90 - 95 |
| Bust (in) | 23 - 27 | 27 - 31 | 31 - 35 | 35 - 37 |
| Waist (cm) | 85 - 95 | 95 - 105 | 105 - 115 | 115 - 125 |
| Waist (in) | 33 - 37 | 37 - 41 | 41 - 45 | 45 - 49 |
| UK Measurements | 6 - 8 / XS - S | 8 - 10 / S - M | 12 - 14 / M - L | 16 / L - XL |
| --- | --- | --- | --- | --- |
| Bust (cm) | 60 - 70 | 70 - 80 | 80 - 90 | 90 - 95 |
| Bust (in) | 23 - 27 | 27 - 31 | 31 - 35 | 35 - 37 |
| Waist (cm) | 85 - 95 | 95 - 105 | 105 - 115 | 115 - 125 |
| Waist (in) | 33 - 37 | 37 - 41 | 41 - 45 | 45 - 49 |
| UK Measurements | 6 - 8 / XS - S | 8 - 10 / S - M | 12 - 14 / M - L | 14 - 16 / L - XL |
| --- | --- | --- | --- | --- |
| Bust (cm) | 60 - 70 | 70 - 80 | 80 - 90 | 90 - 95 |
| Bust (in) | 23 - 27 | 27 - 31 | 31 - 35 | 35 - 37 |
| Waist (cm) | 85 - 95 | 95 - 105 | 105 - 115 | 115 - 125 |
| Waist (in) | 33 - 37 | 37 - 41 | 41 - 45 | 45 - 49 |
| UK Measurements | 6 - 8 / XS - S | 8 - 10 / S - M | 12 - 14 / M - L | 16 / L - XL |
| --- | --- | --- | --- | --- |
| Bust (cm) | 60 - 70 | 70 - 80 | 80 - 90 | 90 - 95 |
| Bust (in) | 23 - 27 | 27 - 31 | 31 - 35 | 35 - 37 |
| Waist (cm) | 85 - 95 | 95 - 105 | 105 - 115 | 115 - 125 |
| Waist (in) | 33 - 37 | 37 - 41 | 41 - 45 | 45 - 49 |
| UK Measurements | 6 - 8 / XS - S | 8 - 10 / S - M | 12 - 14 / M - L | 14 - 16 / L - XL |
| --- | --- | --- | --- | --- |
| Bust (cm) | 60 - 70 | 70 - 80 | 80 - 90 | 90 - 95 |
| Bust (in) | 23 - 27 | 27 - 31 | 31 - 35 | 35 - 37 |
| Waist (cm) | 85 - 95 | 95 - 105 | 105 - 115 | 115 - 125 |
| Waist (in) | 33 - 37 | 37 - 41 | 41 - 45 | 45 - 49 |
| UK Measurements | 6 - 8 / XS - S | 8 - 10 / S - M | 12 - 14 / M - L | 16 / L - XL |
| --- | --- | --- | --- | --- |
| Bust (cm) | 60 - 70 | 70 - 80 | 80 - 90 | 90 - 95 |
| Bust (in) | 23 - 27 | 27 - 31 | 31 - 35 | 35 - 37 |
| Waist (cm) | 85 - 95 | 95 - 105 | 105 - 115 | 115 - 125 |
| Waist (in) | 33 - 37 | 37 - 41 | 41 - 45 | 45 - 49 |
| UK Measurements | 6 - 8 / XS - S | 8 - 10 / S - M | 12 - 14 / M - L | 14 - 16 / L - XL |
| --- | --- | --- | --- | --- |
| Bust (cm) | 60 - 70 | 70 - 80 | 80 - 90 | 90 - 95 |
| Bust (in) | 23 - 27 | 27 - 31 | 31 - 35 | 35 - 37 |
| Waist (cm) | 85 - 95 | 95 - 105 | 105 - 115 | 115 - 125 |
| Waist (in) | 33 - 37 | 37 - 41 | 41 - 45 | 45 - 49 |
| UK Measurements | 6 - 8 / XS - S | 8 - 10 / S - M | 12 - 14 / M - L | 16 / L - XL |
| --- | --- | --- | --- | --- |
| Bust (cm) | 60 - 70 | 70 - 80 | 80 - 90 | 90 - 95 |
| Bust (in) | 23 - 27 | 27 - 31 | 31 - 35 | 35 - 37 |
| Waist (cm) | 85 - 95 | 95 - 105 | 105 - 115 | 115 - 125 |
| Waist (in) | 33 - 37 | 37 - 41 | 41 - 45 | 45 - 49 |
| UK Measurements | 6 - 8 / XS - S | 8 - 10 / S - M | 12 - 14 / M - L | 14 - 16 / L - XL |
| --- | --- | --- | --- | --- |
| Bust (cm) | 60 - 70 | 70 - 80 | 80 - 90 | 90 - 95 |
| Bust (in) | 23 - 27 | 27 - 31 | 31 - 35 | 35 - 37 |
| Waist (cm) | 85 - 95 | 95 - 105 | 105 - 115 | 115 - 125 |
| Waist (in) | 33 - 37 | 37 - 41 | 41 - 45 | 45 - 49 |
| UK Measurements | 6 - 8 / XS - S | 8 - 10 / S - M | 12 - 14 / M - L | 16 / L - XL |
| --- | --- | --- | --- | --- |
| Bust (cm) | 60 - 70 | 70 - 80 | 80 - 90 | 90 - 95 |
| Bust (in) | 23 - 27 | 27 - 31 | 31 - 35 | 35 - 37 |
| Waist (cm) | 85 - 95 | 95 - 105 | 105 - 115 | 115 - 125 |
| Waist (in) | 33 - 37 | 37 - 41 | 41 - 45 | 45 - 49 |
| UK Measurements | 6 - 8 / XS - S | 8 - 10 / S - M | 12 - 14 / M - L | 14 - 16 / L - XL |
| --- | --- | --- | --- | --- |
| Bust (cm) | 60 - 70 | 70 - 80 | 80 - 90 | 90 - 95 |
| Bust (in) | 23 - 27 | 27 - 31 | 31 - 35 | 35 - 37 |
| Waist (cm) | 85 - 95 | 95 - 105 | 105 - 115 | 115 - 125 |
| Waist (in) | 33 - 37 | 37 - 41 | 41 - 45 | 45 - 49 |
| UK Measurements | 6 - 8 / XS - S | 8 - 10 / S - M | 12 - 14 / M - L | 16 / L - XL |
| --- | --- | --- | --- | --- |
| Bust (cm) | 60 - 70 | 70 - 80 | 80 - 90 | 90 - 95 |
| Bust (in) | 23 - 27 | 27 - 31 | 31 - 35 | 35 - 37 |
| Waist (cm) | 85 - 95 | 95 - 105 | 105 - 115 | 115 - 125 |
| Waist (in) | 33 - 37 | 37 - 41 | 41 - 45 | 45 - 49 |
| UK Measurements | 6 - 8 / XS - S | 8 - 10 / S - M | 12 - 14 / M - L | 14 - 16 / L - XL |
| --- | --- | --- | --- | --- |
| Bust (cm) | 60 - 70 | 70 - 80 | 80 - 90 | 90 - 95 |
| Bust (in) | 23 - 27 | 27 - 31 | 31 - 35 | 35 - 37 |
| Waist (cm) | 85 - 95 | 95 - 105 | 105 - 115 | 115 - 125 |
| Waist (in) | 33 - 37 | 37 - 41 | 41 - 45 | 45 - 49 |
| UK Measurements | 6 - 8 / XS - S | 8 - 10 / S - M | 12 - 14 / M - L | 16 / L - XL |
| --- | --- | --- | --- | --- |
| Bust (cm) | 60 - 70 | 70 - 80 | 80 - 90 | 90 - 95 |
| Bust (in) | 23 - 27 | 27 - 31 | 31 - 35 | 35 - 37 |
| Waist (cm) | 85 - 95 | 95 - 105 | 105 - 115 | 115 - 125 |
| Waist (in) | 33 - 37 | 37 - 41 | 41 - 45 | 45 - 49 |
| UK Measurements | 6 - 8 / XS - S | 8 - 10 / S - M | 12 - 14 / M - L | 14 - 16 / L - XL |
| --- | --- | --- | --- | --- |
| Bust (cm) | 60 - 70 | 70 - 80 | 80 - 90 | 90 - 95 |
| Bust (in) | 23 - 27 | 27 - 31 | 31 - 35 | 35 - 37 |
| Waist (cm) | 85 - 95 | 95 - 105 | 105 - 115 | 115 - 125 |
| Waist (in) | 33 - 37 | 37 - 41 | 41 - 45 | 45 - 49 |
| UK Measurements | 6 - 8 / XS - S | 8 - 10 / S - M | 12 - 14 / M - L | 16 / L - XL |
| --- | --- | --- | --- | --- |
| Bust (cm) | 60 - 70 | 70 - 80 | 80 - 90 | 90 - 95 |
| Bust (in) | 23 - 27 | 27 - 31 | 31 - 35 | 35 - 37 |
| Waist (cm) | 85 - 95 | 95 - 105 | 105 - 115 | 115 - 125 |
| Waist (in) | 33 - 37 | 37 - 41 | 41 - 45 | 45 - 49 |
| UK Measurements | 6 - 8 / XS - S | 8 - 10 / S - M | 12 - 14 / M - L | 14 - 16 / L - XL |
| --- | --- | --- | --- | --- |
| Bust (cm) | 60 - 70 | 70 - 80 | 80 - 90 | 90 - 95 |
| Bust (in) | 23 - 27 | 27 - 31 | 31 - 35 | 35 - 37 |
| Waist (cm) | 85 - 95 | 95 - 105 | 105 - 115 | 115 - 125 |
| Waist (in) | 33 - 37 | 37 - 41 | 41 - 45 | 45 - 49 |
| UK Measurements | 6 - 8 / XS - S | 8 - 10 / S - M | 12 - 14 / M - L | 16 / L - XL |
| --- | --- | --- | --- | --- |
| Bust (cm) | 60 - 70 | 70 - 80 | 80 - 90 | 90 - 95 |
| Bust (in) | 23 - 27 | 27 - 31 | 31 - 35 | 35 - 37 |
| Waist (cm) | 85 - 95 | 95 - 105 | 105 - 115 | 115 - 125 |
| Waist (in) | 33 - 37 | 37 - 41 | 41 - 45 | 45 - 49 |
| UK Measurements | 6 - 8 / XS - S | 8 - 10 / S - M | 12 - 14 / M - L | 14 - 16 / L - XL |
| --- | --- | --- | --- | --- |
| Bust (cm) | 60 - 70 | 70 - 80 | 80 - 90 | 90 - 95 |
| Bust (in) | 23 - 27 | 27 - 31 | 31 - 35 | 35 - 37 |
| Waist (cm) | 85 - 95 | 95 - 105 | 105 - 115 | 115 - 125 |
| Waist (in) | 33 - 37 | 37 - 41 | 41 - 45 | 45 - 49 |
| UK Measurements | 6 - 8 / XS - S | 8 - 10 / S - M | 12 - 14 / M - L | 16 / L - XL |
| --- | --- | --- | --- | --- |
| Bust (cm) | 60 - 70 | 70 - 80 | 80 - 90 | 90 - 95 |
| Bust (in) | 23 - 27 | 27 - 31 | 31 - 35 | 35 - 37 |
| Waist (cm) | 85 - 95 | 95 - 105 | 105 - 115 | 115 - 125 |
| Waist (in) | 33 - 37 | 37 - 41 | 41 - 45 | 45 - 49 |
| UK Measurements | 6 - 8 / XS - S | 8 - 10 / S - M | 12 - 14 / M - L | 14 - 16 / L - XL |
| --- | --- | --- | --- | --- |
| Bust (cm) | 60 - 70 | 70 - 80 | 80 - 90 | 90 - 95 |
| Bust (in) | 23 - 27 | 27 - 31 | 31 - 35 | 35 - 37 |
| Waist (cm) | 85 - 95 | 95 - 105 | 105 - 115 | 115 - 125 |
| Waist (in) | 33 - 37 | 37 - 41 | 41 - 45 | 45 - 49 |
| UK Measurements | 6 - 8 / XS - S | 8 - 10 / S - M | 12 - 14 / M - L | 16 / L - XL |
| --- | --- | --- | --- | --- |
| Bust (cm) | 60 - 70 | 70 - 80 | 80 - 90 | 90 - 95 |
| Bust (in) | 23 - 27 | 27 - 31 | 31 - 35 | 35 - 37 |
| Waist (cm) | 85 - 95 | 95 - 105 | 105 - 115 | 115 - 125 |
| Waist (in) | 33 - 37 | 37 - 41 | 41 - 45 | 45 - 49 |
| UK Measurements | 6 - 8 / XS - S | 8 - 10 / S - M | 12 - 14 / M - L | 14 - 16 / L - XL |
| --- | --- | --- | --- | --- |
| Bust (cm) | 60 - 70 | 70 - 80 | 80 - 90 | 90 - 95 |
| Bust (in) | 23 - 27 | 27 - 31 | 31 - 35 | 35 - 37 |
| Waist (cm) | 85 - 95 | 95 - 105 | 105 - 115 | 115 - 125 |
| Waist (in) | 33 - 37 | 37 - 41 | 41 - 45 | 45 - 49 |
| UK Measurements | 6 - 8 / XS - S | 8 - 10 / S - M | 12 - 14 / M - L | 16 / L - XL |
| --- | --- | --- | --- | --- |
| Bust (cm) | 60 - 70 | 70 - 80 | 80 - 90 | 90 - 95 |
| Bust (in) | 23 - 27 | 27 - 31 | 31 - 35 | 35 - 37 |
| Waist (cm) | 85 - 95 | 95 - 105 | 105 - 115 | 115 - 125 |
| Waist (in) | 33 - 37 | 37 - 41 | 41 - 45 | 45 - 49 |
| UK Measurements | 6 - 8 / XS - S | 8 - 10 / S - M | 12 - 14 / M - L | 14 - 16 / L - XL |
| --- | --- | --- | --- | --- |
| Bust (cm) | 60 - 70 | 70 - 80 | 80 - 90 | 90 - 95 |
| Bust (in) | 23 - 27 | 27 - 31 | 31 - 35 | 35 - 37 |
| Waist (cm) | 85 - 95 | 95 - 105 | 105 - 115 | 115 - 125 |
| Waist (in) | 33 - 37 | 37 - 41 | 41 - 45 | 45 - 49 |
| UK Measurements | 6 - 8 / XS - S | 8 - 10 / S - M | 12 - 14 / M - L | 16 / L - XL |
| --- | --- | --- | --- | --- |
| Bust (cm) | 60 - 70 | 70 - 80 | 80 - 90 | 90 - 95 |
| Bust (in) | 23 - 27 | 27 - 31 | 31 - 35 | 35 - 37 |
| Waist (cm) | 85 - 95 | 95 - 105 | 105 - 115 | 115 - 125 |
| Waist (in) | 33 - 37 | 37 - 41 | 41 - 45 | 45 - 49 |
| UK Measurements | 6 - 8 / XS - S | 8 - 10 / S - M | 12 - 14 / M - L | 14 - 16 / L - XL |
| --- | --- | --- | --- | --- |
| Bust (cm) | 60 - 70 | 70 - 80 | 80 - 90 | 90 - 95 |
| Bust (in) | 23 - 27 | 27 - 31 | 31 - 35 | 35 - 37 |
| Waist (cm) | 85 - 95 | 95 - 105 | 105 - 115 | 115 - 125 |
| Waist (in) | 33 - 37 | 37 - 41 | 41 - 45 | 45 - 49 |
| UK Measurements | 6 - 8 / XS - S | 8 - 10 / S - M | 12 - 14 / M - L | 16 / L - XL |
| --- | --- | --- | --- | --- |
| Bust (cm) | 60 - 70 | 70 - 80 | 80 - 90 | 90 - 95 |
| Bust (in) | 23 - 27 | 27 - 31 | 31 - 35 | 35 - 37 |
| Waist (cm) | 85 - 95 | 95 - 105 | 105 - 115 | 115 - 125 |
| Waist (in) | 33 - 37 | 37 - 41 | 41 - 45 | 45 - 49 |
| UK Measurements | 6 - 8 / XS - S | 8 - 10 / S - M | 12 - 14 / M - L | 14 - 16 / L - XL |
| --- | --- | --- | --- | --- |
| Bust (cm) | 60 - 70 | 70 - 80 | 80 - 90 | 90 - 95 |
| Bust (in) | 23 - 27 | 27 - 31 | 31 - 35 | 35 - 37 |
| Waist (cm) | 85 - 95 | 95 - 105 | 105 - 115 | 115 - 125 |
| Waist (in) | 33 - 37 | 37 - 41 | 41 - 45 | 45 - 49 |
| UK Measurements | 6 - 8 / XS - S | 8 - 10 / S - M | 12 - 14 / M - L | 16 / L - XL |
| --- | --- | --- | --- | --- |
| Bust (cm) | 60 - 70 | 70 - 80 | 80 - 90 | 90 - 95 |
| Bust (in) | 23 - 27 | 27 - 31 | 31 - 35 | 35 - 37 |
| Waist (cm) | 85 - 95 | 95 - 105 | 105 - 115 | 115 - 125 |
| Waist (in) | 33 - 37 | 37 - 41 | 41 - 45 | 45 - 49 |
| UK Measurements | 6 - 8 / XS - S | 8 - 10 / S - M | 12 - 14 / M - L | 14 - 16 / L - XL |
| --- | --- | --- | --- | --- |
| Bust (cm) | 60 - 70 | 70 - 80 | 80 - 90 | 90 - 95 |
| Bust (in) | 23 - 27 | 27 - 31 | 31 - 35 | 35 - 37 |
| Waist (cm) | 85 - 95 | 95 - 105 | 105 - 115 | 115 - 125 |
| Waist (in) | 33 - 37 | 37 - 41 | 41 - 45 | 45 - 49 |
| UK Measurements | 6 - 8 / XS - S | 8 - 10 / S - M | 12 - 14 / M - L | 16 / L - XL |
| --- | --- | --- | --- | --- |
| Bust (cm) | 60 - 70 | 70 - 80 | 80 - 90 | 90 - 95 |
| Bust (in) | 23 - 27 | 27 - 31 | 31 - 35 | 35 - 37 |
| Waist (cm) | 85 - 95 | 95 - 105 | 105 - 115 | 115 - 125 |
| Waist (in) | 33 - 37 | 37 - 41 | 41 - 45 | 45 - 49 |
| UK Measurements | 6 - 8 / XS - S | 8 - 10 / S - M | 12 - 14 / M - L | 14 - 16 / L - XL |
| --- | --- | --- | --- | --- |
| Bust (cm) | 60 - 70 | 70 - 80 | 80 - 90 | 90 - 95 |
| Bust (in) | 23 - 27 | 27 - 31 | 31 - 35 | 35 - 37 |
| Waist (cm) | 85 - 95 | 95 - 105 | 105 - 115 | 115 - 125 |
| Waist (in) | 33 - 37 | 37 - 41 | 41 - 45 | 45 - 49 |
| UK Measurements | 6 - 8 / XS - S | 8 - 10 / S - M | 12 - 14 / M - L | 16 / L - XL |
| --- | --- | --- | --- | --- |
| Bust (cm) | 60 - 70 | 70 - 80 | 80 - 90 | 90 - 95 |
| Bust (in) | 23 - 27 | 27 - 31 | 31 - 35 | 35 - 37 |
| Waist (cm) | 85 - 95 | 95 - 105 | 105 - 115 | 115 - 125 |
| Waist (in) | 33 - 37 | 37 - 41 | 41 - 45 | 45 - 49 |
| UK Measurements | 6 - 8 / XS - S | 8 - 10 / S - M | 12 - 14 / M - L | 14 - 16 / L - XL |
| --- | --- | --- | --- | --- |
| Bust (cm) | 60 - 70 | 70 - 80 | 80 - 90 | 90 - 95 |
| Bust (in) | 23 - 27 | 27 - 31 | 31 - 35 | 35 - 37 |
| Waist (cm) | 85 - 95 | 95 - 105 | 105 - 115 | 115 - 125 |
| Waist (in) | 33 - 37 | 37 - 41 | 41 - 45 | 45 - 49 |
| UK Measurements | 6 - 8 / XS - S | 8 - 10 / S - M | 12 - 14 / M - L | 16 / L - XL |
| --- | --- | --- | --- | --- |
| Bust (cm) | 60 - 70 | 70 - 80 | 80 - 90 | 90 - 95 |
| Bust (in) | 23 - 27 | 27 - 31 | 31 - 35 | 35 - 37 |
| Waist (cm) | 85 - 95 | 95 - 105 | 105 - 115 | 115 - 125 |
| Waist (in) | 33 - 37 | 37 - 41 | 41 - 45 | 45 - 49 |
| UK Measurements | 6 - 8 / XS - S | 8 - 10 / S - M | 12 - 14 / M - L | 14 - 16 / L - XL |
| --- | --- | --- | --- | --- |
| Bust (cm) | 60 - 70 | 70 - 80 | 80 - 90 | 90 - 95 |
| Bust (in) | 23 - 27 | 27 - 31 | 31 - 35 | 35 - 37 |
| Waist (cm) | 85 - 95 | 95 - 105 | 105 - 115 | 115 - 125 |
| Waist (in) | 33 - 37 | 37 - 41 | 41 - 45 | 45 - 49 |
| UK Measurements | 6 - 8 / XS - S | 8 - 10 / S - M | 12 - 14 / M - L | 16 / L - XL |
| --- | --- | --- | --- | --- |
| Bust (cm) | 60 - 70 | 70 - 80 | 80 - 90 | 90 - 95 |
| Bust (in) | 23 - 27 | 27 - 31 | 31 - 35 | 35 - 37 |
| Waist (cm) | 85 - 95 | 95 - 105 | 105 - 115 | 115 - 125 |
| Waist (in) | 33 - 37 | 37 - 41 | 41 - 45 | 45 - 49 |
| UK Measurements | 6 - 8 / XS - S | 8 - 10 / S - M | 12 - 14 / M - L | 14 - 16 / L - XL |
| --- | --- | --- | --- | --- |
| Bust (cm) | 60 - 70 | 70 - 80 | 80 - 90 | 90 - 95 |
| Bust (in) | 23 - 27 | 27 - 31 | 31 - 35 | 35 - 37 |
| Waist (cm) | 85 - 95 | 95 - 105 | 105 - 115 | 115 - 125 |
| Waist (in) | 33 - 37 | 37 - 41 | 41 - 45 | 45 - 49 |
| UK Measurements | 6 - 8 / XS - S | 8 - 10 / S - M | 12 - 14 / M - L | 16 / L - XL |
| --- | --- | --- | --- | --- |
| Bust (cm) | 60 - 70 | 70 - 80 | 80 - 90 | 90 - 95 |
| Bust (in) | 23 - 27 | 27 - 31 | 31 - 35 | 35 - 37 |
| Waist (cm) | 85 - 95 | 95 - 105 | 105 - 115 | 115 - 125 |
| Waist (in) | 33 - 37 | 37 - 41 | 41 - 45 | 45 - 49 |
| UK Measurements | 6 - 8 / XS - S | 8 - 10 / S - M | 12 - 14 / M - L | 14 - 16 / L - XL |
| --- | --- | --- | --- | --- |
| Bust (cm) | 60 - 70 | 70 - 80 | 80 - 90 | 90 - 95 |
| Bust (in) | 23 - 27 | 27 - 31 | 31 - 35 | 35 - 37 |
| Waist (cm) | 85 - 95 | 95 - 105 | 105 - 115 | 115 - 125 |
| Waist (in) | 33 - 37 | 37 - 41 | 41 - 45 | 45 - 49 |
| UK Measurements | 6 - 8 / XS - S | 8 - 10 / S - M | 12 - 14 / M - L | 16 / L - XL |
| --- | --- | --- | --- | --- |
| Bust (cm) | 60 - 70 | 70 - 80 | 80 - 90 | 90 - 95 |
| Bust (in) | 23 - 27 | 27 - 31 | 31 - 35 | 35 - 37 |
| Waist (cm) | 85 - 95 | 95 - 105 | 105 - 115 | 115 - 125 |
| Waist (in) | 33 - 37 | 37 - 41 | 41 - 45 | 45 - 49 |
| UK Measurements | 6 - 8 / XS - S | 8 - 10 / S - M | 12 - 14 / M - L | 14 - 16 / L - XL |
| --- | --- | --- | --- | --- |
| Bust (cm) | 60 - 70 | 70 - 80 | 80 - 90 | 90 - 95 |
| Bust (in) | 23 - 27 | 27 - 31 | 31 - 35 | 35 - 37 |
| Waist (cm) | 85 - 95 | 95 - 105 | 105 - 115 | 115 - 125 |
| Waist (in) | 33 - 37 | 37 - 41 | 41 - 45 | 45 - 49 |
| UK Measurements | 6 - 8 / XS - S | 8 - 10 / S - M | 12 - 14 / M - L | 16 / L - XL |
| --- | --- | --- | --- | --- |
| Bust (cm) | 60 - 70 | 70 - 80 | 80 - 90 | 90 - 95 |
| Bust (in) | 23 - 27 | 27 - 31 | 31 - 35 | 35 - 37 |
| Waist (cm) | 85 - 95 | 95 - 105 | 105 - 115 | 115 - 125 |
| Waist (in) | 33 - 37 | 37 - 41 | 41 - 45 | 45 - 49 |
| UK Measurements | 6 - 8 / XS - S | 8 - 10 / S - M | 12 - 14 / M - L | 14 - 16 / L - XL |
| --- | --- | --- | --- | --- |
| Bust (cm) | 60 - 70 | 70 - 80 | 80 - 90 | 90 - 95 |
| Bust (in) | 23 - 27 | 27 - 31 | 31 - 35 | 35 - 37 |
| Waist (cm) | 85 - 95 | 95 - 105 | 105 - 115 | 115 - 125 |
| Waist (in) | 33 - 37 | 37 - 41 | 41 - 45 | 45 - 49 |
| UK Measurements | 6 - 8 / XS - S | 8 - 10 / S - M | 12 - 14 / M - L | 16 / L - XL |
| --- | --- | --- | --- | --- |
| Bust (cm) | 60 - 70 | 70 - 80 | 80 - 90 | 90 - 95 |
| Bust (in) | 23 - 27 | 27 - 31 | 31 - 35 | 35 - 37 |
| Waist (cm) | 85 - 95 | 95 - 105 | 105 - 115 | 115 - 125 |
| Waist (in) | 33 - 37 | 37 - 41 | 41 - 45 | 45 - 49 |
| UK Measurements | 6 - 8 / XS - S | 8 - 10 / S - M | 12 - 14 / M - L | 14 - 16 / L - XL |
| --- | --- | --- | --- | --- |
| Bust (cm) | 60 - 70 | 70 - 80 | 80 - 90 | 90 - 95 |
| Bust (in) | 23 - 27 | 27 - 31 | 31 - 35 | 35 - 37 |
| Waist (cm) | 85 - 95 | 95 - 105 | 105 - 115 | 115 - 125 |
| Waist (in) | 33 - 37 | 37 - 41 | 41 - 45 | 45 - 49 |
| UK Measurements | 6 - 8 / XS | 10 - 12 / S | 12 - 14 / M | 14 - 16 / L |
| --- | --- | --- | --- | --- |
| Bust (cm) | 81.5 - 86.5 | 86.5 - 91.5 | 91.5 - 96.5 | 96.5 - 101.5 |
| Bust (in) | 32 - 34 | 34 - 36 | 36 - 38 | 38 - 40 |
| Waist (cm) | 66.5 - 71.5 | 71.5 - 76.5 | 76.5 - 81.5 | 81.5 - 86.5 |
| Waist (in) | 26 - 28 | 28 - 30 | 30 - 32 | 32 - 34 |
| UK Measurements | 6 - 8 / XS - S | 8 - 10 / S - M | 12 - 14 / M - L | 14 - 16 / L - XL |
| --- | --- | --- | --- | --- |
| Bust (cm) | 60 - 70 | 70 - 80 | 80 - 90 | 90 - 95 |
| Bust (in) | 23 - 27 | 27 - 31 | 31 - 35 | 35 - 37 |
| Waist (cm) | 85 - 95 | 95 - 105 | 105 - 115 | 115 - 125 |
| Waist (in) | 33 - 37 | 37 - 41 | 41 - 45 | 45 - 49 |
| UK Measurements | 6 - 8 / XS - S | 8 - 10 / S - M | 12 - 14 / M - L | 16 / L - XL |
| --- | --- | --- | --- | --- |
| Bust (cm) | 60 - 70 | 70 - 80 | 80 - 90 | 90 - 95 |
| Bust (in) | 23 - 27 | 27 - 31 | 31 - 35 | 35 - 37 |
| Waist (cm) | 85 - 95 | 95 - 105 | 105 - 115 | 115 - 125 |
| Waist (in) | 33 - 37 | 37 - 41 | 41 - 45 | 45 - 49 |
| UK Measurements | 6 - 8 / XS - S | 8 - 10 / S - M | 12 - 14 / M - L | 14 - 16 / L - XL |
| --- | --- | --- | --- | --- |
| Bust (cm) | 60 - 70 | 70 - 80 | 80 - 90 | 90 - 95 |
| Bust (in) | 23 - 27 | 27 - 31 | 31 - 35 | 35 - 37 |
| Waist (cm) | 85 - 95 | 95 - 105 | 105 - 115 | 115 - 125 |
| Waist (in) | 33 - 37 | 37 - 41 | 41 - 45 | 45 - 49 |
| UK Measurements | 6 - 8 / XS - S | 8 - 10 / S - M | 12 - 14 / M - L | 16 / L - XL |
| --- | --- | --- | --- | --- |
| Bust (cm) | 60 - 70 | 70 - 80 | 80 - 90 | 90 - 95 |
| Bust (in) | 23 - 27 | 27 - 31 | 31 - 35 | 35 - 37 |
| Waist (cm) | 85 - 95 | 95 - 105 | 105 - 115 | 115 - 125 |
| Waist (in) | 33 - 37 | 37 - 41 | 41 - 45 | 45 - 49 |
| UK Measurements | 6 - 8 / XS - S | 8 - 10 / S - M | 12 - 14 / M - L | 14 - 16 / L - XL |
| --- | --- | --- | --- | --- |
| Bust (cm) | 60 - 70 | 70 - 80 | 80 - 90 | 90 - 95 |
| Bust (in) | 23 - 27 | 27 - 31 | 31 - 35 | 35 - 37 |
| Waist (cm) | 85 - 95 | 95 - 105 | 105 - 115 | 115 - 125 |
| Waist (in) | 33 - 37 | 37 - 41 | 41 - 45 | 45 - 49 |
| UK Measurements | 6 - 8 / XS - S | 8 - 10 / S - M | 12 - 14 / M - L | 16 / L - XL |
| --- | --- | --- | --- | --- |
| Bust (cm) | 60 - 70 | 70 - 80 | 80 - 90 | 90 - 95 |
| Bust (in) | 23 - 27 | 27 - 31 | 31 - 35 | 35 - 37 |
| Waist (cm) | 85 - 95 | 95 - 105 | 105 - 115 | 115 - 125 |
| Waist (in) | 33 - 37 | 37 - 41 | 41 - 45 | 45 - 49 |
| UK Measurements | 6 - 8 / XS - S | 8 - 10 / S - M | 12 - 14 / M - L | 14 - 16 / L - XL |
| --- | --- | --- | --- | --- |
| Bust (cm) | 60 - 70 | 70 - 80 | 80 - 90 | 90 - 95 |
| Bust (in) | 23 - 27 | 27 - 31 | 31 - 35 | 35 - 37 |
| Waist (cm) | 85 - 95 | 95 - 105 | 105 - 115 | 115 - 125 |
| Waist (in) | 33 - 37 | 37 - 41 | 41 - 45 | 45 - 49 |
| UK Measurements | 6 - 8 / XS - S | 8 - 10 / S - M | 12 - 14 / M - L | 16 / L - XL |
| --- | --- | --- | --- | --- |
| Bust (cm) | 60 - 70 | 70 - 80 | 80 - 90 | 90 - 95 |
| Bust (in) | 23 - 27 | 27 - 31 | 31 - 35 | 35 - 37 |
| Waist (cm) | 85 - 95 | 95 - 105 | 105 - 115 | 115 - 125 |
| Waist (in) | 33 - 37 | 37 - 41 | 41 - 45 | 45 - 49 |
| UK Measurements | 6 - 8 / XS - S | 8 - 10 / S - M | 12 - 14 / M - L | 14 - 16 / L - XL |
| --- | --- | --- | --- | --- |
| Bust (cm) | 60 - 70 | 70 - 80 | 80 - 90 | 90 - 95 |
| Bust (in) | 23 - 27 | 27 - 31 | 31 - 35 | 35 - 37 |
| Waist (cm) | 85 - 95 | 95 - 105 | 105 - 115 | 115 - 125 |
| Waist (in) | 33 - 37 | 37 - 41 | 41 - 45 | 45 - 49 |
| UK Measurements | 6 - 8 / XS - S | 8 - 10 / S - M | 12 - 14 / M - L | 16 / L - XL |
| --- | --- | --- | --- | --- |
| Bust (cm) | 60 - 70 | 70 - 80 | 80 - 90 | 90 - 95 |
| Bust (in) | 23 - 27 | 27 - 31 | 31 - 35 | 35 - 37 |
| Waist (cm) | 85 - 95 | 95 - 105 | 105 - 115 | 115 - 125 |
| Waist (in) | 33 - 37 | 37 - 41 | 41 - 45 | 45 - 49 |
| UK Measurements | 6 - 8 / XS - S | 8 - 10 / S - M | 12 - 14 / M - L | 14 - 16 / L - XL |
| --- | --- | --- | --- | --- |
| Bust (cm) | 60 - 70 | 70 - 80 | 80 - 90 | 90 - 95 |
| Bust (in) | 23 - 27 | 27 - 31 | 31 - 35 | 35 - 37 |
| Waist (cm) | 85 - 95 | 95 - 105 | 105 - 115 | 115 - 125 |
| Waist (in) | 33 - 37 | 37 - 41 | 41 - 45 | 45 - 49 |
| UK Measurements | 6 - 8 / XS - S | 8 - 10 / S - M | 12 - 14 / M - L | 16 / L - XL |
| --- | --- | --- | --- | --- |
| Bust (cm) | 60 - 70 | 70 - 80 | 80 - 90 | 90 - 95 |
| Bust (in) | 23 - 27 | 27 - 31 | 31 - 35 | 35 - 37 |
| Waist (cm) | 85 - 95 | 95 - 105 | 105 - 115 | 115 - 125 |
| Waist (in) | 33 - 37 | 37 - 41 | 41 - 45 | 45 - 49 |
| UK Measurements | 6 - 8 / XS - S | 8 - 10 / S - M | 12 - 14 / M - L | 14 - 16 / L - XL |
| --- | --- | --- | --- | --- |
| Bust (cm) | 60 - 70 | 70 - 80 | 80 - 90 | 90 - 95 |
| Bust (in) | 23 - 27 | 27 - 31 | 31 - 35 | 35 - 37 |
| Waist (cm) | 85 - 95 | 95 - 105 | 105 - 115 | 115 - 125 |
| Waist (in) | 33 - 37 | 37 - 41 | 41 - 45 | 45 - 49 |
| UK Measurements | 6 - 8 / XS - S | 8 - 10 / S - M | 12 - 14 / M - L | 16 / L - XL |
| --- | --- | --- | --- | --- |
| Bust (cm) | 60 - 70 | 70 - 80 | 80 - 90 | 90 - 95 |
| Bust (in) | 23 - 27 | 27 - 31 | 31 - 35 | 35 - 37 |
| Waist (cm) | 85 - 95 | 95 - 105 | 105 - 115 | 115 - 125 |
| Waist (in) | 33 - 37 | 37 - 41 | 41 - 45 | 45 - 49 |
| UK Measurements | 6 - 8 / XS - S | 8 - 10 / S - M | 12 - 14 / M - L | 14 - 16 / L - XL |
| --- | --- | --- | --- | --- |
| Bust (cm) | 60 - 70 | 70 - 80 | 80 - 90 | 90 - 95 |
| Bust (in) | 23 - 27 | 27 - 31 | 31 - 35 | 35 - 37 |
| Waist (cm) | 85 - 95 | 95 - 105 | 105 - 115 | 115 - 125 |
| Waist (in) | 33 - 37 | 37 - 41 | 41 - 45 | 45 - 49 |
| UK Measurements | 6 - 8 / XS - S | 8 - 10 / S - M | 12 - 14 / M - L | 16 / L - XL |
| --- | --- | --- | --- | --- |
| Bust (cm) | 60 - 70 | 70 - 80 | 80 - 90 | 90 - 95 |
| Bust (in) | 23 - 27 | 27 - 31 | 31 - 35 | 35 - 37 |
| Waist (cm) | 85 - 95 | 95 - 105 | 105 - 115 | 115 - 125 |
| Waist (in) | 33 - 37 | 37 - 41 | 41 - 45 | 45 - 49 |
| UK Measurements | 6 - 8 / XS - S | 8 - 10 / S - M | 12 - 14 / M - L | 14 - 16 / L - XL |
| --- | --- | --- | --- | --- |
| Bust (cm) | 60 - 70 | 70 - 80 | 80 - 90 | 90 - 95 |
| Bust (in) | 23 - 27 | 27 - 31 | 31 - 35 | 35 - 37 |
| Waist (cm) | 85 - 95 | 95 - 105 | 105 - 115 | 115 - 125 |
| Waist (in) | 33 - 37 | 37 - 41 | 41 - 45 | 45 - 49 |
| UK Measurements | 6 - 8 / XS - S | 8 - 10 / S - M | 12 - 14 / M - L | 16 / L - XL |
| --- | --- | --- | --- | --- |
| Bust (cm) | 60 - 70 | 70 - 80 | 80 - 90 | 90 - 95 |
| Bust (in) | 23 - 27 | 27 - 31 | 31 - 35 | 35 - 37 |
| Waist (cm) | 85 - 95 | 95 - 105 | 105 - 115 | 115 - 125 |
| Waist (in) | 33 - 37 | 37 - 41 | 41 - 45 | 45 - 49 |
| UK Measurements | 6 - 8 / XS - S | 8 - 10 / S - M | 12 - 14 / M - L | 14 - 16 / L - XL |
| --- | --- | --- | --- | --- |
| Bust (cm) | 60 - 70 | 70 - 80 | 80 - 90 | 90 - 95 |
| Bust (in) | 23 - 27 | 27 - 31 | 31 - 35 | 35 - 37 |
| Waist (cm) | 85 - 95 | 95 - 105 | 105 - 115 | 115 - 125 |
| Waist (in) | 33 - 37 | 37 - 41 | 41 - 45 | 45 - 49 |
| UK Measurements | 6 - 8 / XS - S | 8 - 10 / S - M | 12 - 14 / M - L | 16 / L - XL |
| --- | --- | --- | --- | --- |
| Bust (cm) | 60 - 70 | 70 - 80 | 80 - 90 | 90 - 95 |
| Bust (in) | 23 - 27 | 27 - 31 | 31 - 35 | 35 - 37 |
| Waist (cm) | 85 - 95 | 95 - 105 | 105 - 115 | 115 - 125 |
| Waist (in) | 33 - 37 | 37 - 41 | 41 - 45 | 45 - 49 |
| UK Measurements | 6 - 8 / XS - S | 8 - 10 / S - M | 12 - 14 / M - L | 14 - 16 / L - XL |
| --- | --- | --- | --- | --- |
| Bust (cm) | 60 - 70 | 70 - 80 | 80 - 90 | 90 - 95 |
| Bust (in) | 23 - 27 | 27 - 31 | 31 - 35 | 35 - 37 |
| Waist (cm) | 85 - 95 | 95 - 105 | 105 - 115 | 115 - 125 |
| Waist (in) | 33 - 37 | 37 - 41 | 41 - 45 | 45 - 49 |
| UK Measurements | 6 - 8 / XS - S | 8 - 10 / S - M | 12 - 14 / M - L | 16 / L - XL |
| --- | --- | --- | --- | --- |
| Bust (cm) | 60 - 70 | 70 - 80 | 80 - 90 | 90 - 95 |
| Bust (in) | 23 - 27 | 27 - 31 | 31 - 35 | 35 - 37 |
| Waist (cm) | 85 - 95 | 95 - 105 | 105 - 115 | 115 - 125 |
| Waist (in) | 33 - 37 | 37 - 41 | 41 - 45 | 45 - 49 |
| UK Measurements | 6 - 8 / XS - S | 8 - 10 / S - M | 12 - 14 / M - L | 14 - 16 / L - XL |
| --- | --- | --- | --- | --- |
| Bust (cm) | 60 - 70 | 70 - 80 | 80 - 90 | 90 - 95 |
| Bust (in) | 23 - 27 | 27 - 31 | 31 - 35 | 35 - 37 |
| Waist (cm) | 85 - 95 | 95 - 105 | 105 - 115 | 115 - 125 |
| Waist (in) | 33 - 37 | 37 - 41 | 41 - 45 | 45 - 49 |
| UK Measurements | 6 - 8 / XS - S | 8 - 10 / S - M | 12 - 14 / M - L | 16 / L - XL |
| --- | --- | --- | --- | --- |
| Bust (cm) | 60 - 70 | 70 - 80 | 80 - 90 | 90 - 95 |
| Bust (in) | 23 - 27 | 27 - 31 | 31 - 35 | 35 - 37 |
| Waist (cm) | 85 - 95 | 95 - 105 | 105 - 115 | 115 - 125 |
| Waist (in) | 33 - 37 | 37 - 41 | 41 - 45 | 45 - 49 |
| UK Measurements | 6 - 8 / XS - S | 8 - 10 / S - M | 12 - 14 / M - L | 14 - 16 / L - XL |
| --- | --- | --- | --- | --- |
| Bust (cm) | 60 - 70 | 70 - 80 | 80 - 90 | 90 - 95 |
| Bust (in) | 23 - 27 | 27 - 31 | 31 - 35 | 35 - 37 |
| Waist (cm) | 85 - 95 | 95 - 105 | 105 - 115 | 115 - 125 |
| Waist (in) | 33 - 37 | 37 - 41 | 41 - 45 | 45 - 49 |
| UK Measurements | 6 - 8 / XS - S | 8 - 10 / S - M | 12 - 14 / M - L | 16 / L - XL |
| --- | --- | --- | --- | --- |
| Bust (cm) | 60 - 70 | 70 - 80 | 80 - 90 | 90 - 95 |
| Bust (in) | 23 - 27 | 27 - 31 | 31 - 35 | 35 - 37 |
| Waist (cm) | 85 - 95 | 95 - 105 | 105 - 115 | 115 - 125 |
| Waist (in) | 33 - 37 | 37 - 41 | 41 - 45 | 45 - 49 |
| UK Measurements | 6 - 8 / XS - S | 8 - 10 / S - M | 12 - 14 / M - L | 14 - 16 / L - XL |
| --- | --- | --- | --- | --- |
| Bust (cm) | 60 - 70 | 70 - 80 | 80 - 90 | 90 - 95 |
| Bust (in) | 23 - 27 | 27 - 31 | 31 - 35 | 35 - 37 |
| Waist (cm) | 85 - 95 | 95 - 105 | 105 - 115 | 115 - 125 |
| Waist (in) | 33 - 37 | 37 - 41 | 41 - 45 | 45 - 49 |
| UK Measurements | 6 - 8 / XS - S | 8 - 10 / S - M | 12 - 14 / M - L | 16 / L - XL |
| --- | --- | --- | --- | --- |
| Bust (cm) | 60 - 70 | 70 - 80 | 80 - 90 | 90 - 95 |
| Bust (in) | 23 - 27 | 27 - 31 | 31 - 35 | 35 - 37 |
| Waist (cm) | 85 - 95 | 95 - 105 | 105 - 115 | 115 - 125 |
| Waist (in) | 33 - 37 | 37 - 41 | 41 - 45 | 45 - 49 |
| UK Measurements | 6 - 8 / XS - S | 8 - 10 / S - M | 12 - 14 / M - L | 14 - 16 / L - XL |
| --- | --- | --- | --- | --- |
| Bust (cm) | 60 - 70 | 70 - 80 | 80 - 90 | 90 - 95 |
| Bust (in) | 23 - 27 | 27 - 31 | 31 - 35 | 35 - 37 |
| Waist (cm) | 85 - 95 | 95 - 105 | 105 - 115 | 115 - 125 |
| Waist (in) | 33 - 37 | 37 - 41 | 41 - 45 | 45 - 49 |
| UK Measurements | 6 - 8 / XS - S | 8 - 10 / S - M | 12 - 14 / M - L | 16 / L - XL |
| --- | --- | --- | --- | --- |
| Bust (cm) | 60 - 70 | 70 - 80 | 80 - 90 | 90 - 95 |
| Bust (in) | 23 - 27 | 27 - 31 | 31 - 35 | 35 - 37 |
| Waist (cm) | 85 - 95 | 95 - 105 | 105 - 115 | 115 - 125 |
| Waist (in) | 33 - 37 | 37 - 41 | 41 - 45 | 45 - 49 |
| UK Measurements | 6 - 8 / XS - S | 8 - 10 / S - M | 12 - 14 / M - L | 14 - 16 / L - XL |
| --- | --- | --- | --- | --- |
| Bust (cm) | 60 - 70 | 70 - 80 | 80 - 90 | 90 - 95 |
| Bust (in) | 23 - 27 | 27 - 31 | 31 - 35 | 35 - 37 |
| Waist (cm) | 85 - 95 | 95 - 105 | 105 - 115 | 115 - 125 |
| Waist (in) | 33 - 37 | 37 - 41 | 41 - 45 | 45 - 49 |
| UK Measurements | 6 - 8 / XS - S | 8 - 10 / S - M | 12 - 14 / M - L | 16 / L - XL |
| --- | --- | --- | --- | --- |
| Bust (cm) | 60 - 70 | 70 - 80 | 80 - 90 | 90 - 95 |
| Bust (in) | 23 - 27 | 27 - 31 | 31 - 35 | 35 - 37 |
| Waist (cm) | 85 - 95 | 95 - 105 | 105 - 115 | 115 - 125 |
| Waist (in) | 33 - 37 | 37 - 41 | 41 - 45 | 45 - 49 |
| UK Measurements | 6 - 8 / XS - S | 8 - 10 / S - M | 12 - 14 / M - L | 14 - 16 / L - XL |
| --- | --- | --- | --- | --- |
| Bust (cm) | 60 - 70 | 70 - 80 | 80 - 90 | 90 - 95 |
| Bust (in) | 23 - 27 | 27 - 31 | 31 - 35 | 35 - 37 |
| Waist (cm) | 85 - 95 | 95 - 105 | 105 - 115 | 115 - 125 |
| Waist (in) | 33 - 37 | 37 - 41 | 41 - 45 | 45 - 49 |
| UK Measurements | 6 - 8 / XS - S | 8 - 10 / S - M | 12 - 14 / M - L | 16 / L - XL |
| --- | --- | --- | --- | --- |
| Bust (cm) | 60 - 70 | 70 - 80 | 80 - 90 | 90 - 95 |
| Bust (in) | 23 - 27 | 27 - 31 | 31 - 35 | 35 - 37 |
| Waist (cm) | 85 - 95 | 95 - 105 | 105 - 115 | 115 - 125 |
| Waist (in) | 33 - 37 | 37 - 41 | 41 - 45 | 45 - 49 |
| UK Measurements | 6 - 8 / XS - S | 8 - 10 / S - M | 12 - 14 / M - L | 14 - 16 / L - XL |
| --- | --- | --- | --- | --- |
| Bust (cm) | 60 - 70 | 70 - 80 | 80 - 90 | 90 - 95 |
| Bust (in) | 23 - 27 | 27 - 31 | 31 - 35 | 35 - 37 |
| Waist (cm) | 85 - 95 | 95 - 105 | 105 - 115 | 115 - 125 |
| Waist (in) | 33 - 37 | 37 - 41 | 41 - 45 | 45 - 49 |
| UK Measurements | 6 - 8 / XS - S | 8 - 10 / S - M | 12 - 14 / M - L | 16 / L - XL |
| --- | --- | --- | --- | --- |
| Bust (cm) | 60 - 70 | 70 - 80 | 80 - 90 | 90 - 95 |
| Bust (in) | 23 - 27 | 27 - 31 | 31 - 35 | 35 - 37 |
| Waist (cm) | 85 - 95 | 95 - 105 | 105 - 115 | 115 - 125 |
| Waist (in) | 33 - 37 | 37 - 41 | 41 - 45 | 45 - 49 |
| UK Measurements | 6 - 8 / XS - S | 8 - 10 / S - M | 12 - 14 / M - L | 14 - 16 / L - XL |
| --- | --- | --- | --- | --- |
| Bust (cm) | 60 - 70 | 70 - 80 | 80 - 90 | 90 - 95 |
| Bust (in) | 23 - 27 | 27 - 31 | 31 - 35 | 35 - 37 |
| Waist (cm) | 85 - 95 | 95 - 105 | 105 - 115 | 115 - 125 |
| Waist (in) | 33 - 37 | 37 - 41 | 41 - 45 | 45 - 49 |
| UK Measurements | 6 - 8 / XS - S | 8 - 10 / S - M | 12 - 14 / M - L | 16 / L - XL |
| --- | --- | --- | --- | --- |
| Bust (cm) | 60 - 70 | 70 - 80 | 80 - 90 | 90 - 95 |
| Bust (in) | 23 - 27 | 27 - 31 | 31 - 35 | 35 - 37 |
| Waist (cm) | 85 - 95 | 95 - 105 | 105 - 115 | 115 - 125 |
| Waist (in) | 33 - 37 | 37 - 41 | 41 - 45 | 45 - 49 |
| UK Measurements | 6 - 8 / XS - S | 8 - 10 / S - M | 12 - 14 / M - L | 14 - 16 / L - XL |
| --- | --- | --- | --- | --- |
| Bust (cm) | 60 - 70 | 70 - 80 | 80 - 90 | 90 - 95 |
| Bust (in) | 23 - 27 | 27 - 31 | 31 - 35 | 35 - 37 |
| Waist (cm) | 85 - 95 | 95 - 105 | 105 - 115 | 115 - 125 |
| Waist (in) | 33 - 37 | 37 - 41 | 41 - 45 | 45 - 49 |
| UK Measurements | 6 - 8 / XS - S | 8 - 10 / S - M | 12 - 14 / M - L | 16 / L - XL |
| --- | --- | --- | --- | --- |
| Bust (cm) | 60 - 70 | 70 - 80 | 80 - 90 | 90 - 95 |
| Bust (in) | 23 - 27 | 27 - 31 | 31 - 35 | 35 - 37 |
| Waist (cm) | 85 - 95 | 95 - 105 | 105 - 115 | 115 - 125 |
| Waist (in) | 33 - 37 | 37 - 41 | 41 - 45 | 45 - 49 |
| UK Measurements | 6 - 8 / XS - S | 8 - 10 / S - M | 12 - 14 / M - L | 14 - 16 / L - XL |
| --- | --- | --- | --- | --- |
| Bust (cm) | 60 - 70 | 70 - 80 | 80 - 90 | 90 - 95 |
| Bust (in) | 23 - 27 | 27 - 31 | 31 - 35 | 35 - 37 |
| Waist (cm) | 85 - 95 | 95 - 105 | 105 - 115 | 115 - 125 |
| Waist (in) | 33 - 37 | 37 - 41 | 41 - 45 | 45 - 49 |
| UK Measurements | 6 - 8 / XS - S | 8 - 10 / S - M | 12 - 14 / M - L | 16 / L - XL |
| --- | --- | --- | --- | --- |
| Bust (cm) | 60 - 70 | 70 - 80 | 80 - 90 | 90 - 95 |
| Bust (in) | 23 - 27 | 27 - 31 | 31 - 35 | 35 - 37 |
| Waist (cm) | 85 - 95 | 95 - 105 | 105 - 115 | 115 - 125 |
| Waist (in) | 33 - 37 | 37 - 41 | 41 - 45 | 45 - 49 |
| UK Measurements | 6 - 8 / XS - S | 8 - 10 / S - M | 12 - 14 / M - L | 14 - 16 / L - XL |
| --- | --- | --- | --- | --- |
| Bust (cm) | 60 - 70 | 70 - 80 | 80 - 90 | 90 - 95 |
| Bust (in) | 23 - 27 | 27 - 31 | 31 - 35 | 35 - 37 |
| Waist (cm) | 85 - 95 | 95 - 105 | 105 - 115 | 115 - 125 |
| Waist (in) | 33 - 37 | 37 - 41 | 41 - 45 | 45 - 49 |
| UK Measurements | 6 - 8 / XS - S | 8 - 10 / S - M | 12 - 14 / M - L | 16 / L - XL |
| --- | --- | --- | --- | --- |
| Bust (cm) | 60 - 70 | 70 - 80 | 80 - 90 | 90 - 95 |
| Bust (in) | 23 - 27 | 27 - 31 | 31 - 35 | 35 - 37 |
| Waist (cm) | 85 - 95 | 95 - 105 | 105 - 115 | 115 - 125 |
| Waist (in) | 33 - 37 | 37 - 41 | 41 - 45 | 45 - 49 |
| UK Measurements | 6 - 8 / XS - S | 8 - 10 / S - M | 12 - 14 / M - L | 14 - 16 / L - XL |
| --- | --- | --- | --- | --- |
| Bust (cm) | 60 - 70 | 70 - 80 | 80 - 90 | 90 - 95 |
| Bust (in) | 23 - 27 | 27 - 31 | 31 - 35 | 35 - 37 |
| Waist (cm) | 85 - 95 | 95 - 105 | 105 - 115 | 115 - 125 |
| Waist (in) | 33 - 37 | 37 - 41 | 41 - 45 | 45 - 49 |
| UK Measurements | 6 - 8 / XS - S | 8 - 10 / S - M | 12 - 14 / M - L | 16 / L - XL |
| --- | --- | --- | --- | --- |
| Bust (cm) | 60 - 70 | 70 - 80 | 80 - 90 | 90 - 95 |
| Bust (in) | 23 - 27 | 27 - 31 | 31 - 35 | 35 - 37 |
| Waist (cm) | 85 - 95 | 95 - 105 | 105 - 115 | 115 - 125 |
| Waist (in) | 33 - 37 | 37 - 41 | 41 - 45 | 45 - 49 |
| UK Measurements | 6 - 8 / XS - S | 8 - 10 / S - M | 12 - 14 / M - L | 14 - 16 / L - XL |
| --- | --- | --- | --- | --- |
| Bust (cm) | 60 - 70 | 70 - 80 | 80 - 90 | 90 - 95 |
| Bust (in) | 23 - 27 | 27 - 31 | 31 - 35 | 35 - 37 |
| Waist (cm) | 85 - 95 | 95 - 105 | 105 - 115 | 115 - 125 |
| Waist (in) | 33 - 37 | 37 - 41 | 41 - 45 | 45 - 49 |
| UK Measurements | 6 - 8 / XS - S | 8 - 10 / S - M | 12 - 14 / M - L | 16 / L - XL |
| --- | --- | --- | --- | --- |
| Bust (cm) | 60 - 70 | 70 - 80 | 80 - 90 | 90 - 95 |
| Bust (in) | 23 - 27 | 27 - 31 | 31 - 35 | 35 - 37 |
| Waist (cm) | 85 - 95 | 95 - 105 | 105 - 115 | 115 - 125 |
| Waist (in) | 33 - 37 | 37 - 41 | 41 - 45 | 45 - 49 |
| UK Measurements | 6 - 8 / XS - S | 8 - 10 / S - M | 12 - 14 / M - L | 14 - 16 / L - XL |
| --- | --- | --- | --- | --- |
| Bust (cm) | 60 - 70 | 70 - 80 | 80 - 90 | 90 - 95 |
| Bust (in) | 23 - 27 | 27 - 31 | 31 - 35 | 35 - 37 |
| Waist (cm) | 85 - 95 | 95 - 105 | 105 - 115 | 115 - 125 |
| Waist (in) | 33 - 37 | 37 - 41 | 41 - 45 | 45 - 49 |
| UK Measurements | 6 - 8 / XS - S | 8 - 10 / S - M | 12 - 14 / M - L | 16 / L - XL |
| --- | --- | --- | --- | --- |
| Bust (cm) | 60 - 70 | 70 - 80 | 80 - 90 | 90 - 95 |
| Bust (in) | 23 - 27 | 27 - 31 | 31 - 35 | 35 - 37 |
| Waist (cm) | 85 - 95 | 95 - 105 | 105 - 115 | 115 - 125 |
| Waist (in) | 33 - 37 | 37 - 41 | 41 - 45 | 45 - 49 |
| UK Measurements | 6 - 8 / XS - S | 8 - 10 / S - M | 12 - 14 / M - L | 14 - 16 / L - XL |
| --- | --- | --- | --- | --- |
| Bust (cm) | 60 - 70 | 70 - 80 | 80 - 90 | 90 - 95 |
| Bust (in) | 23 - 27 | 27 - 31 | 31 - 35 | 35 - 37 |
| Waist (cm) | 85 - 95 | 95 - 105 | 105 - 115 | 115 - 125 |
| Waist (in) | 33 - 37 | 37 - 41 | 41 - 45 | 45 - 49 |
| UK Measurements | 6 - 8 / XS - S | 8 - 10 / S - M | 12 - 14 / M - L | 16 / L - XL |
| --- | --- | --- | --- | --- |
| Bust (cm) | 60 - 70 | 70 - 80 | 80 - 90 | 90 - 95 |
| Bust (in) | 23 - 27 | 27 - 31 | 31 - 35 | 35 - 37 |
| Waist (cm) | 85 - 95 | 95 - 105 | 105 - 115 | 115 - 125 |
| Waist (in) | 33 - 37 | 37 - 41 | 41 - 45 | 45 - 49 |
| UK Measurements | 6 - 8 / XS - S | 8 - 10 / S - M | 12 - 14 / M - L | 14 - 16 / L - XL |
| --- | --- | --- | --- | --- |
| Bust (cm) | 60 - 70 | 70 - 80 | 80 - 90 | 90 - 95 |
| Bust (in) | 23 - 27 | 27 - 31 | 31 - 35 | 35 - 37 |
| Waist (cm) | 85 - 95 | 95 - 105 | 105 - 115 | 115 - 125 |
| Waist (in) | 33 - 37 | 37 - 41 | 41 - 45 | 45 - 49 |
| UK Measurements | 6 - 8 / XS - S | 8 - 10 / S - M | 12 - 14 / M - L | 16 / L - XL |
| --- | --- | --- | --- | --- |
| Bust (cm) | 60 - 70 | 70 - 80 | 80 - 90 | 90 - 95 |
| Bust (in) | 23 - 27 | 27 - 31 | 31 - 35 | 35 - 37 |
| Waist (cm) | 85 - 95 | 95 - 105 | 105 - 115 | 115 - 125 |
| Waist (in) | 33 - 37 | 37 - 41 | 41 - 45 | 45 - 49 |
| UK Measurements | 6 - 8 / XS - S | 8 - 10 / S - M | 12 - 14 / M - L | 14 - 16 / L - XL |
| --- | --- | --- | --- | --- |
| Bust (cm) | 60 - 70 | 70 - 80 | 80 - 90 | 90 - 95 |
| Bust (in) | 23 - 27 | 27 - 31 | 31 - 35 | 35 - 37 |
| Waist (cm) | 85 - 95 | 95 - 105 | 105 - 115 | 115 - 125 |
| Waist (in) | 33 - 37 | 37 - 41 | 41 - 45 | 45 - 49 |
| UK Measurements | 6 - 8 / XS - S | 8 - 10 / S - M | 12 - 14 / M - L | 16 / L - XL |
| --- | --- | --- | --- | --- |
| Bust (cm) | 60 - 70 | 70 - 80 | 80 - 90 | 90 - 95 |
| Bust (in) | 23 - 27 | 27 - 31 | 31 - 35 | 35 - 37 |
| Waist (cm) | 85 - 95 | 95 - 105 | 105 - 115 | 115 - 125 |
| Waist (in) | 33 - 37 | 37 - 41 | 41 - 45 | 45 - 49 |
| UK Measurements | 6 - 8 / XS - S | 8 - 10 / S - M | 12 - 14 / M - L | 14 - 16 / L - XL |
| --- | --- | --- | --- | --- |
| Bust (cm) | 60 - 70 | 70 - 80 | 80 - 90 | 90 - 95 |
| Bust (in) | 23 - 27 | 27 - 31 | 31 - 35 | 35 - 37 |
| Waist (cm) | 85 - 95 | 95 - 105 | 105 - 115 | 115 - 125 |
| Waist (in) | 33 - 37 | 37 - 41 | 41 - 45 | 45 - 49 |
| UK Measurements | 6 - 8 / XS - S | 8 - 10 / S - M | 12 - 14 / M - L | 16 / L - XL |
| --- | --- | --- | --- | --- |
| Bust (cm) | 60 - 70 | 70 - 80 | 80 - 90 | 90 - 95 |
| Bust (in) | 23 - 27 | 27 - 31 | 31 - 35 | 35 - 37 |
| Waist (cm) | 85 - 95 | 95 - 105 | 105 - 115 | 115 - 125 |
| Waist (in) | 33 - 37 | 37 - 41 | 41 - 45 | 45 - 49 |
| UK Measurements | 6 - 8 / XS - S | 8 - 10 / S - M | 12 - 14 / M - L | 14 - 16 / L - XL |
| --- | --- | --- | --- | --- |
| Bust (cm) | 60 - 70 | 70 - 80 | 80 - 90 | 90 - 95 |
| Bust (in) | 23 - 27 | 27 - 31 | 31 - 35 | 35 - 37 |
| Waist (cm) | 85 - 95 | 95 - 105 | 105 - 115 | 115 - 125 |
| Waist (in) | 33 - 37 | 37 - 41 | 41 - 45 | 45 - 49 |
| UK Measurements | 6 - 8 / XS - S | 8 - 10 / S - M | 12 - 14 / M - L | 16 / L - XL |
| --- | --- | --- | --- | --- |
| Bust (cm) | 60 - 70 | 70 - 80 | 80 - 90 | 90 - 95 |
| Bust (in) | 23 - 27 | 27 - 31 | 31 - 35 | 35 - 37 |
| Waist (cm) | 85 - 95 | 95 - 105 | 105 - 115 | 115 - 125 |
| Waist (in) | 33 - 37 | 37 - 41 | 41 - 45 | 45 - 49 |
| UK Measurements | 6 - 8 / XS - S | 8 - 10 / S - M | 12 - 14 / M - L | 14 - 16 / L - XL |
| --- | --- | --- | --- | --- |
| Bust (cm) | 60 - 70 | 70 - 80 | 80 - 90 | 90 - 95 |
| Bust (in) | 23 - 27 | 27 - 31 | 31 - 35 | 35 - 37 |
| Waist (cm) | 85 - 95 | 95 - 105 | 105 - 115 | 115 - 125 |
| Waist (in) | 33 - 37 | 37 - 41 | 41 - 45 | 45 - 49 |
| UK Measurements | 6 - 8 / XS - S | 8 - 10 / S - M | 12 - 14 / M - L | 16 / L - XL |
| --- | --- | --- | --- | --- |
| Bust (cm) | 60 - 70 | 70 - 80 | 80 - 90 | 90 - 95 |
| Bust (in) | 23 - 27 | 27 - 31 | 31 - 35 | 35 - 37 |
| Waist (cm) | 85 - 95 | 95 - 105 | 105 - 115 | 115 - 125 |
| Waist (in) | 33 - 37 | 37 - 41 | 41 - 45 | 45 - 49 |
| UK Measurements | 6 - 8 / XS - S | 8 - 10 / S - M | 12 - 14 / M - L | 14 - 16 / L - XL |
| --- | --- | --- | --- | --- |
| Bust (cm) | 60 - 70 | 70 - 80 | 80 - 90 | 90 - 95 |
| Bust (in) | 23 - 27 | 27 - 31 | 31 - 35 | 35 - 37 |
| Waist (cm) | 85 - 95 | 95 - 105 | 105 - 115 | 115 - 125 |
| Waist (in) | 33 - 37 | 37 - 41 | 41 - 45 | 45 - 49 |